Beyond The Waterfront: How Great Lakes Ports Boost Economic Development
The State of Ohio has a unique system of port authorities and a flexible and coordinated state-wide strategy under which its 61 port authorities have a number of special powers and exemptions. On its website, the Ohio Council of Port Authorities describes its port broadly as involved in economic development, rather than only with maritime commerce. One of the most important exemptions is that projects financed even in part by port authorities may be exempt from state sales taxes on materials for a certain period. 
The Toledo-Lucas County Port Authority–the oldest port authority in the state, founded in 1959–saw significant cargo jumps last year, following major expansions efforts. In January it reported a 22% increase in tonnage through the Port of Toledo in 2021 compared to 2020. A total of 11,428,753 short tons traveled through the Port of Toledo last year–the highest tonnage since 2011. The port set a record for the most aluminum handled in a season, totaling nearly 276,000 short tons.
Hot Briquetted Iron
Iron ore tonnage at the Port of Toledo was the highest reported since 1979. The increase in iron ore was mainly attributed to the commencement of operations at the new Cleveland-Cliffs Toledo Direct Reduction Plant at Ironville Terminal. 
The plant, completed in 2020, is the first and the only producer of hot briquetted iron (HBI) in the Great Lakes region. HBI is a premium form of direct reduced iron (DRI) that has been compacted at a temperature greater than 650° C and has a density greater than 5,000 kilograms per cubic meters. This natural-gas-fueled plant supplies high-quality HBI, a low-carbon iron feedstock used in its blast furnaces, basic oxygen furnaces, and electric arc furnaces. 
HBI was developed to overcome problems associated with shipping and handling of DRI. Due to compaction, it is less porous and therefore less reactive than DRI and has less risk of self-heating than DRI. The main market for HBI is electric arc furnace steelmaking, but it also finds application as a trim coolant in basic oxygen furnace steelmaking and as blast furnace feedstock.
To that list of demand factors could be added Russia's invasion of Ukraine. Both of those countries are significant exporters of pig iron used to make U.S. steel. According to the U.S. Census Bureau, two-thirds of the 6 million metric tons of pig iron imported into the U.S. came from those two countries in 2021.
Cleveland-Cliffs said, "Given the facility's low-cost production, the industry focus on decarbonization, the increasing scarcity of domestic prime scrap, and the growing EAF capacity in the U.S., the Toledo direct reduction plant is expected to generate significant value for the company going forward." 
Effects of COVID-19
The Port of Duluth began climbing out of the COVID-induced drop in cargo activity in 2021. Total maritime tonnage through the Port of Duluth-Superior climbed to 32.9 million short tons in 2021, a 27% season-over-season increase and a 2.3% improvement over the five-season average, the port reported in January.
Iron ore, the port's No. 1 cargo, led the upswing. "Iron ore tonnage climbed sharply in 2017, coinciding with increased demand for domestic steel resulting from a combination of factors, including tariffs on import steel," said Deb DeLuca, executive director of the Duluth Port Authority. "We've seen that demand remain relatively robust ever since, except during the COVID-19 downturn in 2020. This robust demand is good news for our port, as we're located adjacent to Minnesota's Mesabi Iron Range and we help move the iron ore that comprises 80% of the nation's first-pour steel. Last year, our port's total iron ore float topped 20 million short tons for the second time in four seasons, a feat unmatched since the early 1990s." 
In all, 20.4 million short tons of iron ore transited Duluth-Superior during the 2021 season, a 32.6% season-over-season spike and 11.9% gain on the five-season average. 
A bulk carrier picking up grain was the first "saltie" to arrive at Duluth, however. The Resko, a 33,000-ton Polish bulk freighter, picked up 16,200 short tons of spring wheat and 5,400 short tons of durum wheat destined for Italy at the Gavilon grain terminal. 
Container Improvements
The Port of Duluth has announced major improvements to its container-handling facilities in an effort to attract more containerized cargoes, including ag cargoes, and help bypass congestion at coastal container ports. "Conversations are ongoing with a number of cargo owners, including some ag-related, as well as shipping companies, retailers and regional manufacturers regarding maritime container capabilities in the Port of Duluth-Superior," DeLuca said.
The port's long-term future is encouraging, given the re-shoring of manufacturing in the U.S. following the global trade disruptions of tariffs, COVID-19 restrictions and, again, Russia's invasion of Ukraine. 
"We have the capacity, multimodal capability and flexibility to be a relief valve for North America's supply chain strain, and as North America's furthest-inland seaport, we're uniquely positioned to serve midcontinent manufacturers, retailers and producers," DeLuca said. "We've seen success since 2020 with helping find creative cargo transport solutions for our customers. For example, the ability to flex from land-based delivery to waterborne delivery of certain cargoes to bypass supply chain snarls and help keep our customers supplied with what they need, when they need it."
DeLuca is looking forward to the addition of a second Soo Lock, which received funding in the Infrastructure Investment and Jobs Act but whose estimated costs were recently reported to have tripled. "The addition of a second Soo Lock capable of accommodating thousand-footers, and fitted with hands-free mooring and other new technologies, will provide cargo velocity benefits (safer, more efficient flow of freighters through the locks), maintenance benefits (maintenance downtime on the aging Poe Lock won't shut down passage completely, as there will now be an alternative second lock), and the opportunity for additional vessels to use the Soo Locks that haven't been able to use them previously due to various vessel characteristics," DeLuca said.  "Overall, the addition of a new lock at the Soo will strengthen North America's supply chain and enhance its resilience."
Port Milwaukee Harbor Improvements
In February, Port Milwaukee welcomed $7 million in state grants
and said it would soon break ground for dock improvements making the port a cruise ship destination hosting more than 10,000 passengers a year. Executive director Adam Tindall-Schlicht told local media the improvements will bring "More passengers, more visitors, more people that haven't looked at Milwaukee and Wisconsin before. They are going to be able to do that because of the Great Lakes cruise activity."  Tindall-Schlicht said the port expects 10,000 cruise passengers in 2022, of which Viking Cruises will host 8,000. In 2018, fewer than 1,000 cruise passengers came to the city.
But passenger vessel traffic is not the only area where the port's business is growing. In April, Port Milwaukee announced it would receive more than $4.5 million from the State of Wisconsin's Harbor Assistance Program for the agricultural maritime export facility and dock wall repairs along the Jones Island Inner Mooring Basin. 
Created in 1979, Wisconsin's Harbor Assistance Program helps harbor communities maintain and improve waterborne commerce. "Milwaukee is an economic catalyst for the State of Wisconsin, and this funding will enhance the Port's efforts to connect Wisconsin agriculture with world markets," said Milwaukee Mayor Cavalier Johnson. "Thank you to Governor Tony Evers for supporting Port Milwaukee and our city's maritime economy."
The funding includes $1,175,000 to repair and reconstruct a section of the most significantly degraded dock wall along the Jones Island Inner Mooring Basin and $3,381,000 to assist in funding the final stage of construction of a "transformational" $36 million agricultural maritime export facility on Port Milwaukee property leased to The DeLong Co. Inc., based in Clinton, Wisconsin. Port Milwaukee broke ground on that project in October 2021.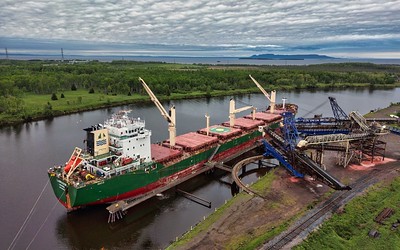 Exports buoyed shipping activity through the St. Lawrence Seaway in June, with U.S. coke and Canadian potash heading to overseas destinations for the season reaching a 20-year record high.  Canadian... Read More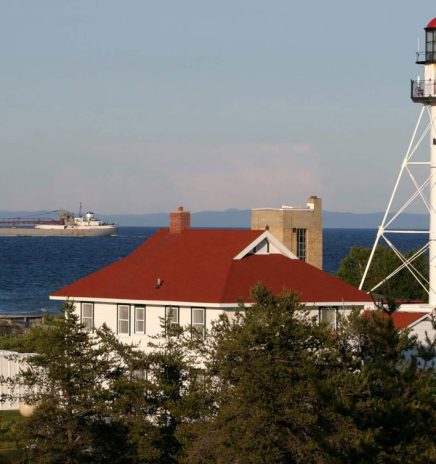 Tracking shipwrecks honors those lost in the lakes The summer calm that comes to the Great Lakes provides the ideal conditions for tracking down the remains of the many ships... Read More