Building New ATBs
The Bartlett Maritime Plan calls for contracting with Fincantieri Bay Shipbuilding to construct two ATB-like vessels to transport the submarines through the St. Lawrence River, Lake Ontario and Lake Erie. Bartlett estimates it would take seven days to move a sub between Groton, Conn. – a major Naval submarine hub – and the American Naval Shipyard in Lorain, Ohio.
The subs would need separate propulsion because the propulsion system would be put in "cold shutdown" for the move. This status involves shutting down the pressurized nuclear water reactor, a common practice when the subs are in shipyards for maintenance.
With a patent pending, the SSN 774 Class Oceangoing Transit Carriers would provide buoyancy and keep the subs moving into and out of the system. With an overall length of 740-feet and a beam of 79 feet, the vessels are a cross between a World War II ARDM 1 Class Mobile Drydock and a 2011 Crowley 750 Class ATB. They would be registered and operated as Jones Act commercial vessels, the plan states.
The accompanying dual-screw tugs would have 16,000 shp and use Intercon Connectors to link to the back of the barges. Each barge would tuck a sub between its ballast and other tanks, securing it within the barge. Loaded, the vessel would have a draft of 25 feet.
The barges would be modifications of the ATBs already in use, providing space for the sail, or fin, of the sub to come up through the barge to solve the seaway's draft problems. The way the barge is designed to cover both sides of submarines would provide stability and protection during transit.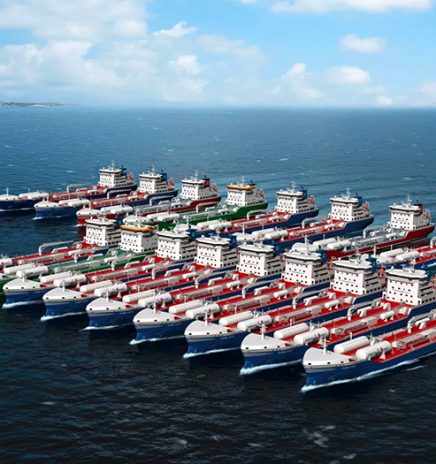 Algoma Central Corporation (TSX: ALC) has doubled its investment in the FureBear joint venture, and will construct four additional dual-fuel ice class 1A 17,999 DWT climate-friendly product tankers with their... Read More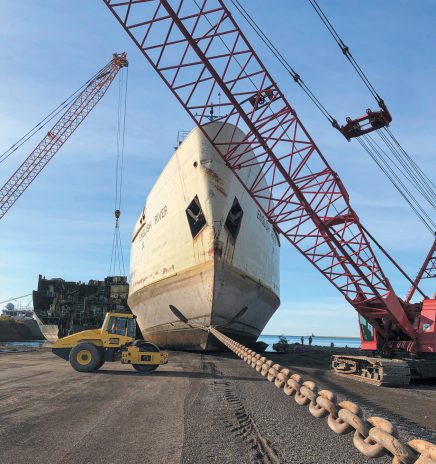 Great Lakes vessels have much longer lifespans than salties, but sooner or later, they, too, face the inevitable. When that time comes, their final journey could be to a breakers... Read More