Change Is the Only Constant: Adapting to the Ever-Changing Demands of Industry
There are many things in which change is the only constant, and this has been the case for the barge Commander through her 65-year career. She has been rebuilt time and time again to meet the changing demands of the industry she serves.
Commander was originally constructed in 1957 by Todd Shipyards of Houston, Texas, as a 300-foot-long, B-hull barge for Brown & Root Inc. She was completed as the M-211. Two years later, she was converted into a pipe-laying barge. She served in that role until 1988, when she was repurposed for storing containers.
In 1993, she made her journey to the Great Lakes after being purchased by Kellstone, Inc. to operate in the Lake Erie stone trade. She was lengthened and rebuilt as a self-unloader for the job, serving in that capacity until 2009 under the names Kellstone I and later Cleveland Rocks. In 2011, she was sold to MichiganOhio Barge, a division of Sand Products Corp., and returned to service with the tug Bradshaw McKee in early 2012 until being laid up later that season.
Cleveland Rocks lay in her slumber for a few years before plans were made to rebuild her into a self-unloading cement carrier. Designs were prepared for what would become her most comprehensive conversion yet. The plans called for lengthening, reconstructing the bow and installing cement-handling equipment.
The tug Bradshaw McKee towed Cleveland Rocks out of Muskegon harbor on April 17, 2017, bound for Fincantieri Bay Shipbuilding in Sturgeon Bay, Wisc. Following her arrival, preparations were made to begin the conversion. She was placed in drydock where her old river-barge style bow was cut off, as well as her old cargo hold structure and unloading system.
By the time demolition was complete, the barge was a mere shell of her former self, only consisting of side tanks, a bottom and a stern notch for the tug. This left a relatively clean slate for the engineers and shipbuilders to work their magic.
New Outfitting
Following the 2017-18 winter repair season, rebuilding the vessel began. New hull sections were laid at the bow to lengthen her and form a new bow. Infrastructure for the conveyor belt running beneath the cargo hold was fabricated and installed in a recessed tunnel running the centerline of the tank top and new hold slopes were fitted to direct the flow of cement to the belt. Since powdered cement cargoes behave similar to liquids, the hold slopes are not very steep.
Additional hogbacks, angled slopes running transversely, were installed to help direct the flow to the unloading gates over the conveyor belt. New sides to the cargo hold were added to cover the internal structure and to keep cement from building up on framing. Next, a trunk deck was constructed over what was considered her spar deck to increase her cubic carrying capacity.
Following the forward infrastructure and spar deck, the unloading system was completed. A bucket elevator system was installed in the bow, transporting cargo from the cargo hold belt to an airslide boom on the trunk deck. Since cement powder is so fine, it can often create large amounts of dust. To solve this issue, cement carriers are equipped with compressor systems to maintain negative pressure in the cargo hold. Dust collection systems keep dust down and preserve as much of the cargo as possible.
The Commander conversion project allowed for the inclusion of innovative automation and control technologies. She features an automated ballast system that can be controlled from a single computer, as well as a remote-operated unloading system. Her unloading system utilizes ultrasonic sensors located at unloading gates to monitor the unloading rate and cargo levels on the belt. These systems help prevent slowdowns and increase efficiency, allowing the ship to spend less time at the dock and more time moving cargo.
By late 2018, the majority of the conversion project was complete and after a fresh coat of paint, the former Cleveland Rocks emerged from the drydock sporting a different appearance and a new name – Commander. The conversion project brought Commander to an overall length of 495 feet, with a capacity of more than 13,000 tons of cement.
She was delivered to her owners, Port City Marine Services, on January 23, 2019, 21 months after the project began. She entered service with the tug Bradshaw McKee, squeezing a few trips in before winter layup. In early 2021, she was paired with Port City's newly acquired tugboat, Caroline McKee, to continue operations.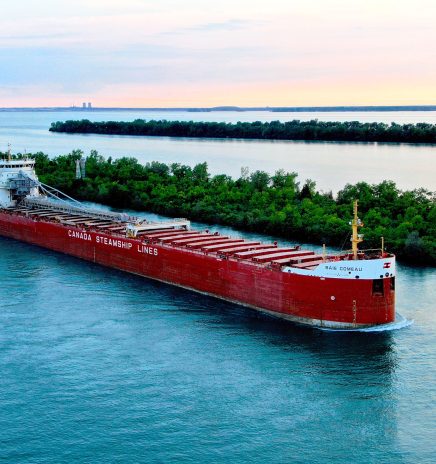 The CSL Group (CSL) has announced a significant milestone in its Great Lakes biofuel program. With a cumulative 75,000 running hours on B100 biofuel over the past four years, CSL... Read More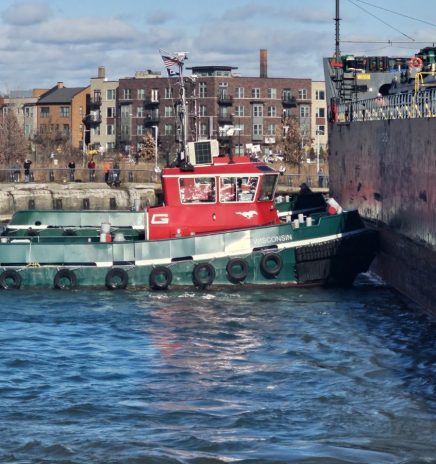 The Great Lakes Towing Company recently assisted in the freeing of the grounded commercial vessel, BARBRO G. The incident happened near Belle Isle on the Detroit River. The pilot aboard... Read More