Container Demand Grows: Great Lakes/Seaways First Committed Container Vessel Joins Cleveland Europe Express
There's a unique vessel trading in the system. Peyton Lynn C is a dedicated container ship that can carry 850 TEUs, with reefer plugs for 200. Originally purchased by Doornekamp Construction to launch a feeder line service between the Lake Ontario port and Halifax, the ship is now under long-term charter to Spliethoff.
Peyton Lynn C has joined the Cleveland Europe Express (CEE) doubling the number of ships transporting cargo between the Great Lakes/Seaway and Antwerp, Belgium. While the partnership was being formed, the ship was being outfitted at a Baltic yard for passing through the systems locks.
For her maiden voyage, the ship loaded in Antwerp August 23 and headed across the Atlantic. After a 12-day transit, she delivered containerized cargo to Picton, Ontario. She then sailed three more days to unload at Cleveland, Ohio, and take on new containers for the return trip – all part of the dedicated service which has been operating since 2014.
"The reason we took the vessel on charter is demand," says Bart Peters, Great Lakes/Atlantic regional representative for Spliethoff. His company approached Doornekamp about joining forces. "Our shared vision is developing the Great Lakes trade. This extra, pure-container vessel is just another step in building the Great Lakes trade. There's more to come."
The Vessel
Peyton Lynn C was built in 2007 and formerly sailed under the Antigua Barbuda flag. She previously sailed as Gesina Schepers and Eemsdijk.
Two onboard cranes were temporarily removed to accommodate the systems locks. According to Graham Seymour, Picton Terminal General Manager, the cranes are being modified and will be reinstalled during the next drydock. For now, onshore cranes are being used. Picton has also purchased container handling equipment to move and stack containers.
"We are prepared to receive up to 500 loaded containers and to export the same," Seymour says, noting an expectation to move heavy containers because of weight restrictions for road and rail. An example of this type of containerized cargo is scrap steel.
Based on demand, Picton will begin as a monthly stop along the CEE.
Picton Terminals is owned by the Doornekamp family, which also owns Doornekamp Construction and Hendriks Aggregates. It has a final mile trucking partnership and is versed in shipping road salt, aggregates, farming products, heavy-lift cargo, containers, dry bulk, new steel products and recycled scrap steel.
Doornekamp Construction purchased Picton Terminals in 2014. It has since refurbished the port and, in 2020, purchased the tug Amy Lynn D and a new flat deck barge Jacob Joseph C from Damen Marine Services to support its marine construction projects.
Gaining Momentum
Since CEE launched eight years ago, container and breakbulk cargo has been moved on Spliethoff's tweendeckers, multi-purpose vessels that can adapt based on contracted cargo for each voyage. The versatility has allowed the feeder line to move steel, project cargo, forest products, windmill components, bulk cargo and on-deck containers.
Sailings occur year-round, twice monthly.
"Now, with this full container vessel we take the next step," Peters says, noting that adding container capacity allows the service to offer the market pure-container capacity, both coming into the Great Lakes and sailing back to Europe.
Congested land-based transportation on the East Coast is prompting shippers and receivers to look at more inland waterborne options. Regional companies like Picton Terminals, Spliethoff, Cleveland-Cuyahoga County Port Authority and Hamilton Container Terminal are expanding their visions and infrastructure to move more cargo in boxes.
Global orders for container ships are on the rise. For the first half of 2021, contracts to build these ocean-going ships more than doubled the orders placed in 2019 and 2020, according to VesselsValue Ltd. A short-term dip in maritime trade – pre-pandemic – has turned into a shortage of carrying capacity as companies struggle to restock warehouses and shelves.
"The current world market in containers is changing, says Seymour. Every day, there is new demand. There's a domestic uptick because of this."
Seeing the trend and having Dutch ownership accustomed to the waterborne freight domination in Europe, Picton purchased Peyton Lynn C with intentions to launch its own service – connecting the port with one of the region's container giants – Halifax, Nova Scotia. Marketing itself as Doornekamp Lines, the company was approached by Spliethoff with an offer to charter the vessel for two years and include Picton Terminals as a regular stop.
As Seymour puts it, the port has the benefit of being within two hours of the Metro Toronto area. Peters, too, mentioned the value of having access the area. Picton now joins regional stops that include Valleyfield, Quebec; Ramey's Bend, Ontario; Cleveland, Ohio; Monroe, Michigan; Chicago, Illinois; Thunder Bay, Ontario; and Duluth, Minnesota (see the map on page 14).
"It's been our goal to help initiate container trade in the Great Lakes, to get it further into the system than Montreal," Seymour says. "There are smaller ports that can get the containers to huge markets."
Cleveland Diversifies Cargo
The driving force behind CEE has always been improved service for shippers. The sailing distance between Antwerp and Cleveland is 3,745 nautical miles. The sailing distance between Antwerp and Baltimore, Maryland is already 3,653 nautical miles – and then containers must be transloaded to truck or rail to travel another 375 road miles to reach the Cleveland port. The same rationale is being used at other ports as the idea of moving containers throughout the system gains momentum.
"The potential savings on double handling and longer trucking/ rail transport – both in time and money – benefits customers," Peters says, adding that water transportation can accommodate greater volume and deliver better environmental results.
The Port of Cleveland is Spliethoff's original partner. In addition to moving containers for regional manufacturers, the port has discovered a market for shipping yachts across the ocean, says David Gutheil, chief commercial officer for Cleveland-Cuyahoga County Port Authority.
"At the beginning, there were more containers than project cargo," he adds. "Each year is different. When we started this, bringing yachts into the Great Lakes and into Cleveland wasn't even a thought."
The containers themselves are a commodity because demand is strong to move them back to Europe. With companies like Home Depot and GM chartering vessels to improve logistics, and Amazon becoming its own transportation network by purchasing planes and trucks, the carrier and the ports along the feeder line see new and expanding opportunities.
"We're always trying to be creative and improve on what we have," Gutheil says. "We have the scanning equipment to clear containers and other ports don't."
As CEE enters a new era, Spliethoff continues to make cargo and delivery decisions. And with the new partnership, Peyton Lynn C carries the name of both Spliethoff and Doornekamp for onlookers to see as she sails past.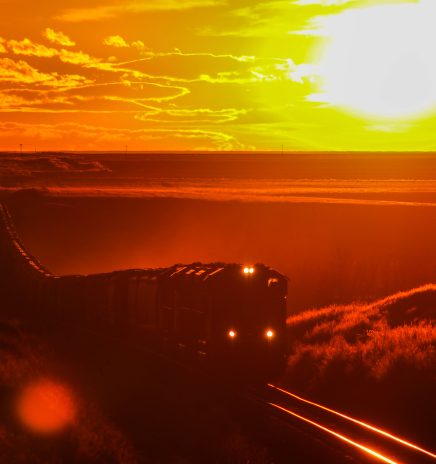 Story updated 12:00PM, 9/15/2022 Unions and management reached a tentative deal early Thursday, averting a freight railroad strike that had threatened to further disrupt U.S. supply chains and drive prices... Read More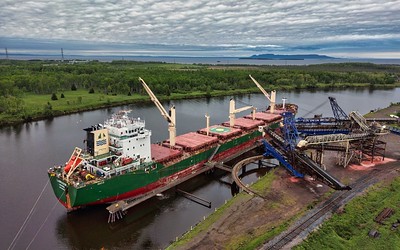 Exports buoyed shipping activity through the St. Lawrence Seaway in June, with U.S. coke and Canadian potash heading to overseas destinations for the season reaching a 20-year record high.  Canadian... Read More