Great Lakes Shipbreaking: Canada's MRC Provides Clean, End-of-Life Ship Recycling
Great Lakes vessels have much longer lifespans than salties, but sooner or later, they, too, face the inevitable. When that time comes, their final journey could be to a breakers yard operated by Canada's only production shipbreaker, Marine Recycling Corporation (MRC). Its the oldest active shipbreaker in the world.
MRC was ISO-certified in 2000, the first shipbreaker to be so certified. It operates facilities on both of Canada's coasts and is run by the third generation of the founding family.
Founder and director of business development Wayne Elliott is widely regarded as North America's foremost expert on ship recycling. During a shipbreaking career that began in 1959, Elliott figures he has broken up 170 vessels for customers that include the Canadian Navy, U.S. Navy and U.S. Coast Guard. MRC is headquartered on the Welland Canal.
Elliott has a few remaining competitors that offer shipbreaking services, an industry few outsiders know about. There's a company in Nova Scotia, he says, and another on Canada's West Coast. But none of them have the record or do the volume he does. Elliott could well be among the last of a specialized breed.
None of his successors are likely to have his knowledge of the huge changes that have swept the marine industry since he began operating. The names and histories of long-dead vessels from aircraft carriers to ferries, coastal cruisers and commercial ships come easily to Elliott. He can recite every detail of their final disposal, including the obstacles and unexpected surprises that are an inevitable aspect of his business.
A series of tightening environmental regulations and spiraling insurance costs have raised the business risks for potential entrants and competitors. Many of the vessels broken up by MRC have been taken over from other shipbreakers that failed.
Current Major Projects
MRC has two major projects at hand, the scrapping of the Great Lakes vessels St. Clair and Manistee. St. Clair is in the shipyard, while the Manistee waits out the winter in Toledo, Ohio.
"As soon as weather permits, well move the Manistee up here," Elliott says.
St. Clair was built by American Steamship Company in 1974-75 to deliver western low-sulfur coal from Superior, Wis., to Detroit Edison's Belle River power plant near St. Clair, Mich. According to boatnerd. com, the St. Clair was launched July 24, 1975, at Bay Shipbuilding in Sturgeon Bay, Wis. At the time, it was the largest vessel to be side-launched and was built at a cost of $24.3 million.
On Feb. 16, 2019, a fire swept through the vessel while it was docked in Toledo for winter layup. No one was injured, but the fire burned the length of the ship along the unloading belts and destroyed the superstructure.
"I've never seen a modern ship damaged like that," Elliott says, noting that the fire was so intense it burned through a 13-inch-thick cement floor. Elliott notes that lithium metal, a component of some equipment, will combust and burn if it encounters water.
"One drop of workers sweat is enough to start a reaction," he says.
Now those components and materials are being removed or disassembled.
The Final Journey
Even before the ship is towed, all hydrocarbons must be pumped out or removed. Some vessels arrive at the breaking yard under their own power, but Canadian environmental laws prohibit the towing of vessels with remaining hydrocarbons into, out of or within Canadian territorial waters. Saltwater ballast is also forbidden to be discharged inside the Great Lakes.
In its final journey to the breakers yard, St. Clair had two tugs on it all the way, according to Elliott, with two extra boats standing by in Port Colborne, Ontario, at the Welland Canals southern end.
Upon arrival, crews begin by cleaning out the crew accommodations. There are specific steps for removing and disposing of each component and material, with dedicated waste streams for most of the materials. The empty tanks are further cleaned out; the oily water is considered a hazardous substance and must be treated. After the crew quarters, there is abatement of PCBs and asbestos. Engine and equipment components are disassembled to get to valuable metals, which are sold back into the metals market.
"A lot of the profitability of this business depends on commodity price fluctuations," Elliott says.
Strict records must be kept tracking the disposal of all materials.
Elliott estimates the entire process – decontamination, hazardous materials abatement, then disassembly and cutting up the vessel – could be completed by Labor Day. He likes to have more than one vessel in progress at a time and says this is a more efficient use of crews and yard resources. While he has had seven ships in the yard before, he says three is ideal. That's what he means when calling MRC the only "production" shipbreaker.
"We haven't been idle in 25 years," he says.
Detectives and Mysteries
You never know what you will find once you begin exploring a vessel in its final journey. That uncertainty can add risk to bids. Elliott recalls one of the most difficult jobs he ever bid on. Two Soviet fishing trawlers built in Lithuania had been abandoned off the coast of Newfoundland. The shipboard documentation was in Russian. Testing of the wheelhouse paint discovered its contents to include cadmium, mercury and lead.
Workers in a specialized business like shipbreaking tend to stick around. Elliott estimates that about half his workers belong to the Eskasoni First Nation, as Canadians call their indigenous native communities.
"Its the second largest band in Nova Scotia," he says. Other workers belong to other First Nations.
Setting Environmental Standards
Green values are key to Elliott's business, and he is a leader in recycling and green practices. He is a keen enthusiast of natural health products, saying, "They saved me 25 years ago."
A business he started in 1985, Raw Materials Company (RMC), specializes in recycling all the components of an alkaline battery. Elliott jokes that he started this business "20 years too early," since it took that long for market demand to catch up to his services. Now, though, given the growing push for electric vehicles and other green technologies that depend on batteries, as well as on sustainability and recycling, the future for this part of RMCs business seems assured.
The process used to extract what Elliott calls the "black mass" in the battery, which RMC has patented, removes 100% of the iron, potassium, zinc and manganese and blends them into micronutrients in custom fertilizer that, Elliott claims, can get 20 extra bushels of corn out of an acre.
He calls the blend "iron earth" and says it provides 76 essential minerals and has the highest acid count of any similar product. Adding iron earth to your vegetable garden will give you larger and more abundant veggies as well, he says, adding, "We ship 4,000 tons a year to the United States."
The recovered steel and nickel, which makes up 25% of an alkaline battery, is sold back into the metals market.
"We recycle the most batteries in Ontario," Elliott says, estimating that his company recycles about 10,000 tons of non-alkaline batteries, as well. He is proud that 90% of the materials in an alkaline battery can be completely recycled, with nothing going into landfills.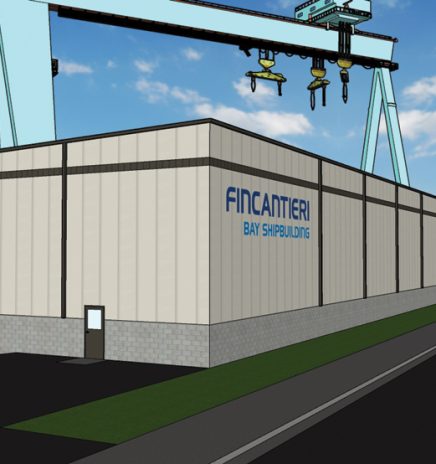 Fincantieri Bay Shipbuilding expects the completion of a new, 19,000-square-foot machine shop at its Surgeon Bay, Wisconsin, shipyard later this year. The company broke ground on the project last September... Read More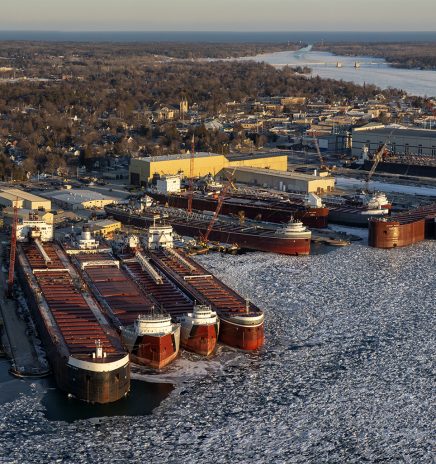 U.S. shipping companies operating exclusively on the Great Lakes transitioned from sailing to the annual process of repairing, maintaining and modernizing their fleet of lakers.  Vessels ranging in length from... Read More