Herbert C. Jackson: Small but Powerful Contributor to Interlake's Fleet
Although the smallest boat in the Interlake Steamship Company fleet, at 690 feet, Herbert C. Jackson is an active and important contributor. The Jackson has carried a wide variety of cargoes over her career, including iron ore, coal, stone and grain. Her size and versatility make the Jackson capable of delivering iron ore from Marquette to Dearborn, Michigan, grain to Buffalo, New York, and iron ore shuttles up the Cuyahoga River in Cleveland, Ohio.
The Herbert C. Jackson was built by Great Lakes Engineering Works in River Rouge, Michigan, as hull 302. The keel was laid on June 25, 1958, and the vessel was side-launched into the Rouge River on February 20, 1959. The Jackson became the heaviest ship to be side-launched by the company and was the second to last ship to be built by the yard.
Interlake's newbuild entered service on May 14, 1959, as a bulk freighter with dimensions of 690 feet long, a 75-foot beam and 37-foot, 6-inch depth. The ship was named for Herbert C. Jackson, who was born in Cleveland, Ohio, on March 27, 1894. After graduating from Yale University in 1916, he joined Pickands Mather and Company. He was elected a partner in 1942 and served as a managing partner from 1955 to 1960. Jackson served as executive vice-president from 1960 until he retired in December of 1962 after 46 years with the company. After retirement, he remained a director of the firm until 1965. He passed away in Cleveland, Ohio, on December 1, 1981.
The Jackson's original GE 6,600 shp cross-compound steam engine consisted of a high- and low-pressure turbine with two Combustion Engineering coal-fired water-tube boilers. These boilers were automated and converted to oil during the 1974-75 winter layup at DeFoe Shipbuilding in Bay City, Michigan. During this layup, the vessel's holds were modified, and she was given a single hold belt leading to an aft loop-belt system directing cargo to a 250-foot, deck-mounted boom.
Making a Name
Notable events in the Jackson's career include spending a considerable part of her first season transiting the St. Lawrence Seaway for Labrador iron ore due to a strike on the Great Lakes. A bow thruster was installed in 1966 to improve maneuverability and, in December 1970, she transported 57 12-foot Christmas trees from Hoyt Lakes, Minnesota, to Cleveland to be used in a national display in Washington D. C.
During the winter layup of 1985-86, the vessel's cargo holds were lined with polymer sheets to facilitate more efficient unloading. Another upgrade occurred on October 15, 1988, when the Jackson departed Fraser Shipyards with a 1,000 hp bow thruster engine taken from the idled John Sherwin. A stern thruster was installed at Fraser Shipyards in Superior, Wisconsin, during her 1997-98 layup.
Herbert C. Jackson's career includes rescuing two boaters on October 1, 1986. The boaters had been adrift on Lake Michigan for 80 hours. The Herbert C. Jackson delivered her first load of grain loaded at Superior, Wisconsin, to Buffalo, New York, on April 28, 2001, to become the largest vessel by tonnage to transit the Buffalo River at that time.
On June 26, 2004, she became the last ship to dock at the Port Washington, Wisconsin, power plant with a load of coal. The plant thereafter converted to natural gas. This was a big event in the area, and the boat was opened to the public for tours at the port.
During the winter layup of 2015-16 the ships aging steam turbine was replaced by two MaK-6M32E diesel engines at Fraser Shipyards. The ship was also outfitted with a controllable pitch propeller and Gesab exhaust gas economizers along with an auxiliary boiler. The economizers allow the ship to harness waste heat and energy from the main engine exhaust and produce free heat to heat the accommodations, various auxiliary systems and fuel oil services.
Repowering the ship introduced enhanced propulsion and reliability and reduced emissions of particulate matter, carbon dioxide and sulfur oxides. The ship returned to service in September 2016 and completed Interlake's decade-long fleet modernization program. The Jackson continues to carry iron ore, coal stone and grain to a wide variety of customers around the Great Lakes.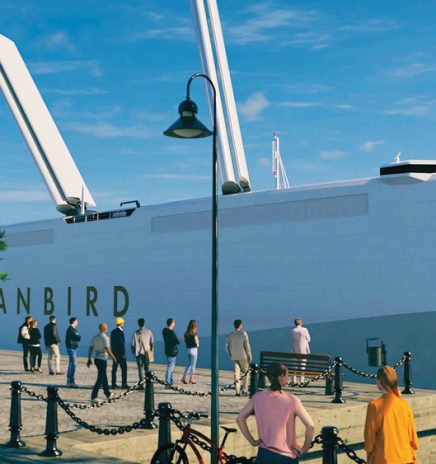 As research continues in the quest for alternative energy options, wind propulsion is a possible alt-fuel, at least as power that can boost conventional propulsion in vessels, thereby reducing the... Read More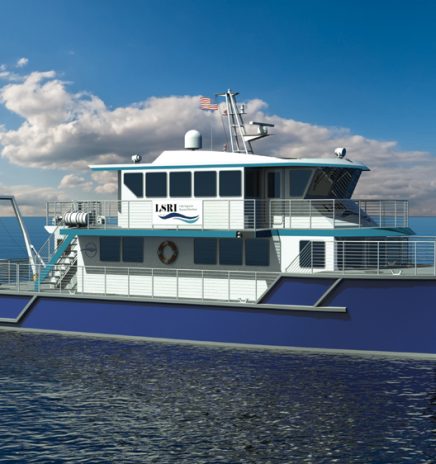 A special low-emissions research vessel being designed for the Lake Superior Research Institute at the University of Wisconsin-Superior entered the construction phase in October 2022. The LRSI commissioned leading digital... Read More