High Speed Hyperports: Technology Targets Efficiency and Sustainability of the Great Lakes/Seaway System
Imagine replacing cargo-carrying trucks from the roadways with a dedicated high-speed infrastructure system. Right now, the economic connection between the United States and Canada needs to adopt cutting-edge solutions that support a more sustainable future.
Annually, the Ambassador Bridge, connecting Windsor and Detroit, handles more than $160 billion worth of cargo carried by more than three million commercial trucks, contributing to significant congestion in the surrounding area. Yet, the more sustainable means of trade between the U. S. and Canada, the Great Lakes/St. Lawrence Seaway, only facilitates approximately $15 billion of trade value between the two countries.
How can the Seaway become the primary means of trade and support future sustainability goals? The answer is simple. Invest in innovative technologies that unlock the full potential of the Seaway.
The Seaway is vital to the distribution of goods and resources into and out of the world's largest economy. It is time to strengthen the Seaways infrastructure systems and realize its role as the backbone of the continental economy.
Potential Port Technology
Hyperloop Transportation Technologies, Inc. (HyperloopTT) is pioneering an innovative tube-based transportation system that moves people and goods at airplane speeds safely, efficiently and sustainably. HyperloopTT's pressurized passenger and cargo capsules levitate over unpowered, conductive track in a near-frictionless environment to enable energy-efficient and emission-free high-speed travel.
The technology to achieve this is not theoretical. Hyperloop systems integrate technologies from across industries, including next-generation passive magnetic levitation and modular vacuum solutions, to create the first breakthrough in transportation in a century.
In 2017, HyperloopTTs technology was deemed feasible and insurable by international reinsurance provider Munich Re. Critical infrastructure components are currently being optimized on the world's only full-scale hyperloop test track and passenger capsule fuselage at HyperloopTT's Toulouse, France Research and Development Center.
Commercial hyperloop travel is approaching and international governments recognize the promise of supporting the deployment of hyperloop systems. Member agencies of the U.S. Department of Transportation and European Commission are engaged in creating regulatory guidance to ensure the safe operation of commercial systems.
Hyperloop in the Great Lakes
Where will the first commercial hyperloop systems be located?
Right now, the Great Lakes is home to the world's most advanced commercial hyperloop project. Released in 2019, the Great Lakes Hyperloop Feasibility Study found that providing sustainable high-speed transportation connecting Cleveland, Chicago and Pittsburgh would create widespread economic and environmental benefits, without requiring government subsidies.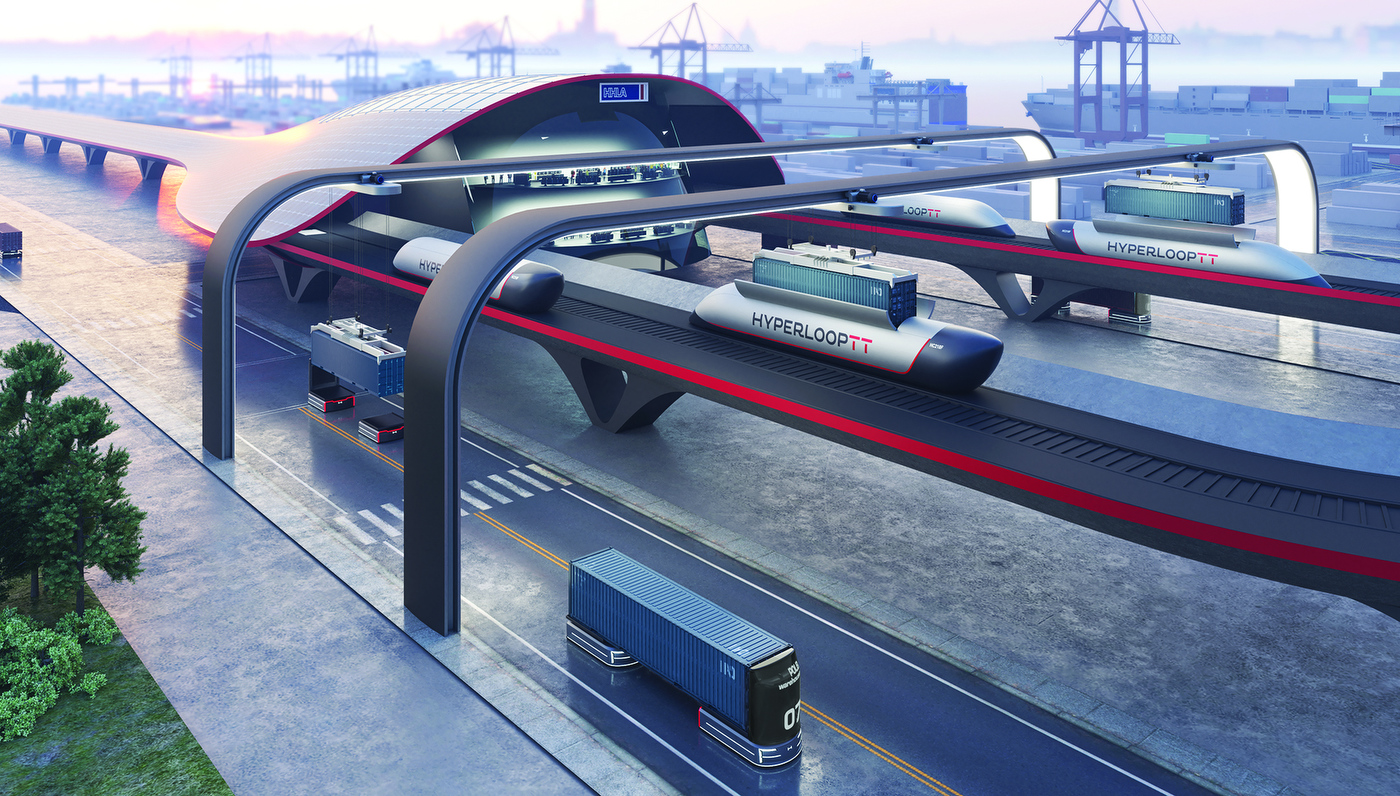 Designed to move both passengers and high-value time-sensitive cargo, the system connects Chicago to Cleveland in just 47 minutes and Cleveland to Pittsburgh in 24 minutes. Reducing travel times between major economic hubs from hours to minutes will redefine the way people live, work and connect.
While passenger hyperloop travel promises to reimagine human mobility, applications for cargo aim to reinvigorate and redistribute economies. The highly energy-efficient system reduces light freight and cargo transportation costs and is expected to generate upwards of 35-40% of its operational revenue from express parcels, air cargo and less-than-truckload (LTL) cargo shipments, based on market growth rates.
Moving Cargo at Ports
Hyperloop travel's potential is not limited to passenger and light-freight applications. The technology can be applied to commercial shipping and logistics to provide sustainable transportation for full-size cargo containers.
HyperPort, developed in partnership with Port of Hamburg Operator HHLA, is a dedicated cargo system capable of integrating hyperloop technology with current port operations. HyperPort reduces port congestion and emissions while increasing capacity, reliability and flexibility of cargo distribution throughout connected regions.
A plug-n-play solution integrating directly with current port infrastructure, the technology adapts to specific port needs to decrease operator costs and provide greater connections with regional economies.
Engineered to the highest of industry standards, HyperPort capsules can transport two 20-foot or one 40- to 45-foot standard or high cube container at speeds up to 370 mph from ports to inland distribution centers. The fully integrated system incorporates Autonomous Intelligent Vehicles (AIVs) to handle first/last-mile container distribution providing an end-to-end, port-to-door solution for sustainable supply chain logistics.
The ability to sustainably and autonomously transport containerized cargo at airplane speeds on the ground strengthens on-demand economies while addressing environmental issues facing the logistics industry. After more than 20,000 detailed engineering hours, the system has achieved pre-commercialization readiness, with critical infrastructure, capsule and terminal components undergoing optimization in preparation for commercial deployment.
Now, port operators have the opportunity to revolutionize the handling of cargo throughout the Great Lakes region by supporting increased containerized goods. As operators invest in and implement next-generation infrastructure systems, they will unlock the full potential of the Seaway and promote widespread economic development in the surrounding areas and beyond.
Assessing Trade Patterns
Despite a once-in-a-generation global economic disruption, the Seaway handled nearly 38.8 million metric tons of cargo in 2020. While global trade experienced a decline approaching 9.2%, the Great Lakes declined less than 1.7%, showcasing that the American economy is transported through the Great Lakes region.
From Montreal to Toronto, Detroit, Chicago, and Duluth, the Great Lakes/Seaway transports vital resources and goods that power the American economy. Global markets from Europe, Asia, Africa and the Middle East access Eastern and Central Canada, the American Midwest and East Coast through the Great Lakes.
HyperPort systems represent an opportunity for port operators along the system to future-proof their operations and attract increased international imports and exports. Leveraging sustainable low-cost, high-speed transportation, port operators can expand their catchment radius and facilitate the efficient distribution of cargo between regional hubs and ports.
When ships arrive at the docks, their goods can be off-loaded and distributed hundreds of miles with zero-emissions and in minutes instead of hours. Upon arrival at the Port of Chicago, containers will be minutes away from Columbus, Ohio, Indianapolis, Indiana and Kansas City, Kansas. Similarly, upon arrival at the Port of Duluth, containers would be minutes away from Des Moines, Iowa, Fargo, North Dakota and Minneapolis-St. Paul, Minnesota.
Economic Prospects
Affordable high-speed connections between ports and regional economic hubs will unlock economic opportunities. Manufacturers and service providers can source materials from around the world and rely on efficient delivery times. The greater Great Lakes region will benefit from increased economic activity as businesses are able to send and receive resources farther, faster and cheaper than current infrastructure systems allow.
From an exporters perspective, HyperPort systems can transport goods directly to ports at a fraction of the time and cost of current methods. Manufacturers and suppliers that are currently geographically isolated from the system will be able to efficiently ship raw materials and other high-value cargo to ports for global distribution.
Overall, HyperPort systems will increase the reach, reliability and efficiency of shipments throughout the Great Lakes/St. Lawrence Seaway. Investing in innovative solutions will allow an increase in exports through the Seaway and attract increased shipping volume from global markets.
Sustainable high-speed travel is coming to the Great Lakes. Since the release of the Great Lakes Hyperloop Feasibility Study, HyperloopTT has been engaged with municipalities throughout the region to extend the route and include further connections.
Now, HyperloopTT is preparing to increase the Great Lakes Hyperloop network, by including HyperPort systems connecting Seaway ports to economic hubs. Designed to international standards, the high-speed cargo system will enable port operators to attract increased global trade by unlocking new connections throughout the United States and Canada.
At HyperloopTT, collaboration between the company and industry leaders makes the world a better place. Together with public and private partners, HyperloopTT is preparing to conduct an Environmental Impact Statement for a passenger-focused system connecting Chicago, Cleveland and Pittsburgh.
Future economies are built today. Increased infrastructure investment will reshape the current logistics and supply chain landscape and those that adopt sustainable innovation will create a long-lasting impact for the regions they serve.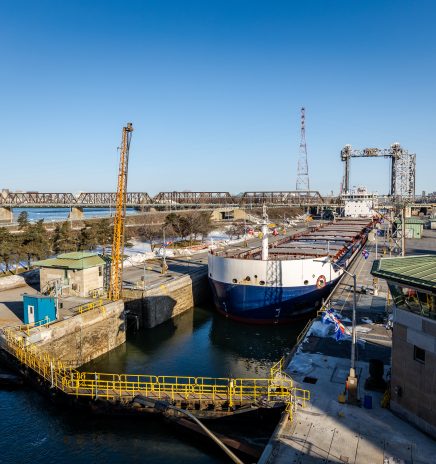 The 2023 navigation season on the St. Lawrence Seaway is now underway. On Wednesday, March 22, 2023, Terence Bowles, president and CEO of the St. Lawrence Seaway Management Corporation (SLSMC),... Read More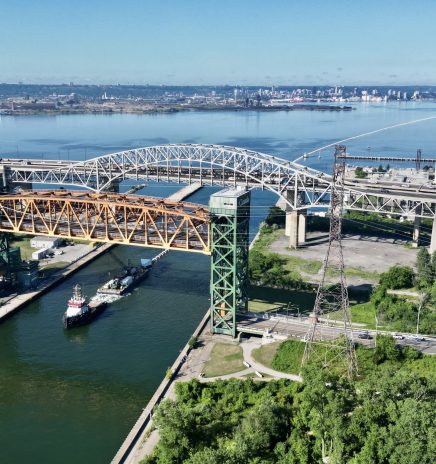 More than 36 million metric tons (mmt) of cargo transited the Great Lakes/St. Lawrence Seaway System during the 2022 navigation season, according to the St. Lawrence Seaway Management Corporation (SLSMC)... Read More