Meeting the Challenge: The St. Mary's Challenger
One ship has met the challenge of transporting bulk commodities to help build the economy of the United States for over 100 years.
The bulk cement barge known today as the St. Mary's Challenger had her beginnings as a self-powered bulk freighter early in mid-1905, when the Shenango Furnace Company of Pittsburgh, Pennsylvania, signed a contract with the Great Lakes Engineering Works of Ecorse, Michigan, in mid-1905 to construct the company's first ship.
The keel was laid for hull #17 on October 16, 1905, and christening ceremonies were held on February 17, 1906, where the boat was given the name William P. Snyder and then launched into the Detroit River. The William P. Snyder was the first of six ships to sail for the Shenango fleet. The Snyder was 552' long, 56' wide and 31' deep with a cargo capacity of 10,900 tons. Propulsion was originally provided by a shipyard built 1,760 ihp triple expansion steam engine and two coal-fired Scotch marine boilers. The Snyder also had luxurious guest quarters which was something that the fleet of ships for Shenango Furnace became famous for. The Snyder completed her sea trials on April 26, 1906. The William P. Snyder received two new coal-fired water tube boilers in 1924.
Change of Hands
The William P. Snyder was sold to Stewart Furnace Company of Cleveland, Ohio, and renamed Elton Hoyt II in 1926. Another change in ownership occurred in 1929 when the Elton Hoyt II was sold to Youngstown Steamship Company with Pickands Mather and Company taking over as managers. Youngstown Steamship was merged into Pickands Mather's Interlake Steamship Company in 1930.
The Hoyt was repowered in 1950 with a 3,500 ihp 4 cylinder Skinner Unaflow reciprocating steam engine and two new coal-fired water tube boilers by Christy Corp. at Sturgeon Bay, Wisconsin. On November 24, 1950, the Elton Hoty II collided with the Enders M. Voorhees during a snowstorm in the Straits of Mackinac. She suffered heavy damage to her bow and proceeded to Great Lakes Engineering Works for repairs.
The Elton Hoyt II was renamed in early 1952 as the Alex D. Chisholm to free up her former name for a new ship being constructed for the Interlake Steamship fleet. The Chisholm continued to sail for Interlake until she laid up at Erie, Pennsylvania, in 1962 because her small size made it tough to be a profitable ore boat.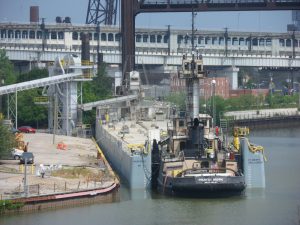 In 1966, the Alex D. Chisholm was purchased by the Cement Transit Company a subsidiary of Medusa Portland Cement to begin a new career as a cement carrier. Medusa Portland Cement was to complete a new cement plant at Charlevoix, Michigan, in 1967 and needed a vessel to deliver product in the Great Lakes region.
The vessel was towed from Erie in April 1966 to Manitowoc, Wisconsin, where she was given the name Medusa Challenger. Manitowoc Shipbuilding proceeded to convert the vessel into a self-unloading cement carrier by installing a conveyor and airslide system in her cargo hold, installing a bucket elevator in her forward end leading to a 48' long airslide boom and the boilers were replaced with oil-fired boilers. The modifications reduced her cargo capacity to 10,250 tons. The Challenger underwent lake trials on April 117, 1967, and sailed on her maiden voyage in mid-May for Medusa Cement bearing the distinctive blue mythological head of Medusa on her stack showing snakes for hair and a frightful expression that according to Greek mythology all who looked at her were turned to stone. The Medusa Challenger loads powdered cement at Charlevoix, Michigan, for ports around Lakes Michigan and Erie.
Memorable Events
Some notable events in the life of the Medusa Challenger include being the first vessel to unload at the new Medusa terminal in Toledo on May 22, 1987, and at the Miller Paving terminal in Owen Sound, Ontario, on November 20, 1990. The Challenger was hit by a waterspout on northern Lake Michigan on October 5, 1997, but escaped without any major damage. The vessel also developed a reputation as the "jinx ship" in Chicago as the city's drawbridges tended to become stuck when they were raised to allow her to pass causing long traffic delays.
In July 1998 Medusa Cement was bought out by Southdown Inc. and the boat was renamed Southdown Challenger on April 26, 1999, at Milwaukee, Wisconsin. Southdown Inc. was acquired by Mexico-based Cemex in 2000 with the Challenger and fleetmates being sold to comply with the Jones Act on November 8, 2000, to Wilmington Trust of Wilmington, Delaware, with management being handled by HMC Ship Management of Lemont, Illinois. HMC Ship Management was a subsidiary of Hannah Marine Corp. The cargo contract charter to Southdown lasted until April 28, 2005, when the Challenger was sold to St. Mary's Inc. of Detroit which was a subsidiary of St. Mary's Cement of Toronto, Ontario, whose parent company is Votorantum Cimentos of Sao Paulo, Brazil. Prior to entering service in 2005 the vessel was renamed St. Mary's Challenger.
Recent History
The St. Mary's Challenger changed hands again in early 2009 when she was purchased by Port City Steamship Services which was a subsidiary of the McKee family-owned Sand Products Corp. of Muskegon, Michigan.
By 2013, with the vessel coming up for her five-year inspection, the costs to update an inefficient steam power plant, outdated electrical system and replacement parts that all had to be custom fabricated, the decision was made to convert her to an articulated barge.
The St. Mary's Challenger completed her final trip as a self-powered steamer on October 11, 2013, when she arrived at Fincantieri Bay Shipbuilding. Work progressed over the winter on removing the forward pilothouse and replacing it with a small lookout tower and the removal of the engine room and aft accommodations. A notch for a pusher tug was installed in her stern while in the drydock. The tug Bradshaw McKee joined the St. Mary's Challenger at Sturgeon Bay and the pair entered service on June 3, 2014.
The tug Bradshaw McKee was switched out with the tug Prentiss Brown in early 2015. The Prentiss Brown was built in 1967 by Gulfport Shipbuilding Corp. of Port Arthur, Texas, for Gulfcoast Transit, a subsidiary of Tampa Electric Company, and originally was named Betty Culbreath. The tug is 123' 5" long, 31' 6" wide and 19' deep. She was paired with the barge Pearle Jahn in the fall of 1967 and served the coal trade from Gulf ports to Tampa Electric power plants in Tampa, Florida.
The tug was sold in 2003 to McAllister Towing and Transportation, renamed Michaela McAllister and entered service in Charleston, South Carolina, as a harbor assist tug. Ownership of the tug changed again in mid-2008 when Port City Marine Services acquired her for Great Lakes service. The tug sailed to Bay Shipbuilding where she was drydocked early in 2009. The refit included refurbishing the interior spaces and engines and the installation of a Bludwith ATB coupler which allowed her to pair up with a barge. She was renamed Prentiss Brown and left the shipyard on February 8, 2009, to pair up with the barge St. Mary's Conquest before switching over to her current configuration pushing the barge St. Mary's Challenger in 2015.
The original pilothouse of the St. Mary's Challenger arrived in Toledo on April 3, 2015, on the foredeck of the Paul R. Tregurtha where it was unloaded at the Toledo-Lucas County Port Authority's general cargo dock for its eventual placement at the National Museum of the Great Lakes. This will allow visitors to see the original pilothouse while also possibly seeing the St. Mary's Challenger sailing to the company terminal to unload on the Maumee River.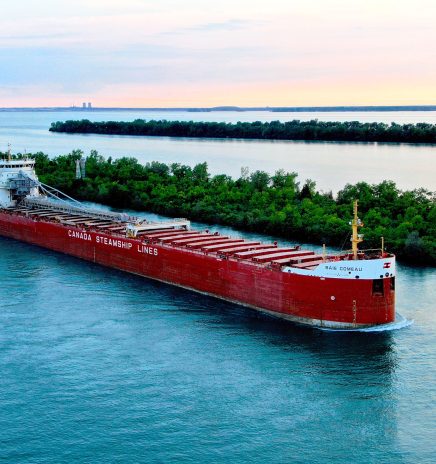 The CSL Group (CSL) has announced a significant milestone in its Great Lakes biofuel program. With a cumulative 75,000 running hours on B100 biofuel over the past four years, CSL... Read More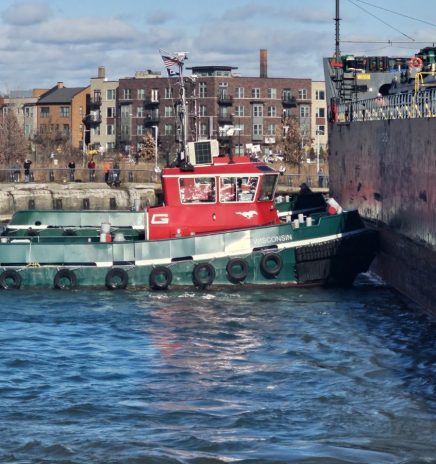 The Great Lakes Towing Company recently assisted in the freeing of the grounded commercial vessel, BARBRO G. The incident happened near Belle Isle on the Detroit River. The pilot aboard... Read More