Raising Questions: Industry Looks to Protect Shipping Channels as Marine Sanctuaries Increase in the Great Lakes
The proliferation of marine sanctuaries to protect shipwrecks in the Great Lakes – including one proposed for eastern Lake Ontario whose public comment process just concluded – is raising questions about how and whether these sanctuaries can balance the interests of all users of the Great Lakes, including shippers.
When people hear the words "marine sanctuary," they may think of sanctuaries that protect ocean life like endangered coral reefs. The widely publicized oil spill off Santa Barbara, California in 1969 was the impetus for creating the Office of National Marine Sanctuaries (ONMS) in 1972 under the National Oceanic and Atmospheric Administration (NOAA). Today that office has 350 employees and manages 17 national marine sanctuaries.
Some marine sanctuaries administered by the ONMS, though, are designated to protect historically important shipwrecks, not marine life. The Monitor National Marine Sanctuary, for example, located off the coast of North Carolina, protects at least 36 vessels sunk from the Civil War through World War II – including the USS Monitor.
Not that the two purposes exclude each other, especially in saltwater. In the oceans, shipwrecks attract new marine life and form the beginnings of new coral reefs and aquatic communities. Vessels are even deliberately sunk to encourage the formation of new reefs in coastal areas.
Abandoned Shipwreck Act
The cold, clear freshwater of the Great Lakes preserves shipwrecks better than saltwater. Some Great Lakes wrecks are close to the surface or even extend partly above the surface.
In 1988, Congress passed The Abandoned Shipwrecks Act, which protects historic shipwrecks from treasure hunters and salvagers and is designed to regulate access to them. The act transferred the title of wrecks to the governing entity of the waters where they lie, whether state, federal or tribal. The act encourages states to "create underwater parks or areas to provide additional protection for such resources."
Shipwreck Coast
The Thunder Bay National Marine Sanctuary in Lake Huron, the first in the Great Lakes, was created in 2000. The most recently dedicated marine sanctuary, a 962-square mile area of Lake Michigan named The Wisconsin Shipwreck Coast National Marine Sanctuary, was designated this past June. It protects at least 36 known shipwrecks.
"We're really excited Tony Evers about NOAA's announcement," says Wisconsin Gov. Tony Evers. "The designation builds on 30 years of maritime heritage preservation by the state of Wisconsin and will create exciting new opportunities in education, recreation and tourism in our coastal communities."
Cultural Assets
Marine sanctuary enthusiasts point out the supporting activities NOAA performs, such as lakebed mapping, buoy placing and generating data for research that supports tourism, recreation and scientific projects. A marine sanctuary designation opens opportunities for various grants.
Among other services, NOAA places and maintains buoys over the protected areas to signal rec boaters that they are in a protected area and transmits information of interest to fishers and other rec users, like temperature strings. The marine sanctuaries are supported by cultural and educational institutions around the Great Lakes.
From July through August, for example, an interdisciplinary team of researchers led by the ONMS conducted autonomous survey and exploration of the Wisconsin Shipwreck Coast National Marine Sanctuary and the Lake Ontario National Marine Sanctuary. The research team, composed of Marine Magnetics, Ocean Infinity, University of Delaware, University of Miami and the NOAA National Centers for Coastal Ocean Science, investigated part of Lakes Michigan and Ontario using autonomous vehicles outfitted with remote sensing instruments.
The collected data will be used to characterize lakebed habitat and identify submerged shipwrecks. The research team was supported by cultural and research institutions in several Great Lakes states.
Proposing a Sanctuary
Proposing a marine sanctuary is a multi-step process that must culminate in an endorsement by a state's governor. It must be initiated by local interests and jurisdictions. Promoters recruit organizations and collect signatures supporting the designation.
In theory, the process should give all stakeholders a voice in the designation and a chance to ensure that their interests are not negatively affected. Those stakeholders include local ports and shippers that want to ensure continued unrestricted access to shipping channels. They also include the U. S. Army Corps of Engineers and private companies who engage in dredging and other activities, both to maintain shipping channels and to replenish beaches and enhance habitats.
"We work closely with localities, ports, shippers and the Coast Guard," says Russ Green, Great Lakes Regional Coordinator/Maritime Archaeologist at ONMS. "We have a great relationship with the local stakeholders. Our focus is encouraging people to explore the wrecks safely and responsibly."
The point is to encourage responsible activity, according to Green. Fishing over a wreck area is not restricted, for example.
Zoning the Great Lakes
As the number and scope of marine sanctuaries increase, some stakeholders are wondering about regulatory creep and the potential for conflicts down the line.
According to Steve Fisher Fisher, executive director of the American Great Lakes Ports Association (AGLPA), in 2014 NOAA began affirmatively campaigning for communities to nominate marine sanctuaries, instead of waiting for them to do so.
"By encouraging and assisting local officials to nominate large areas of the Great Lakes as new sanctuaries," Fisher has written, "NOAA is expanding its own role and control. While it may not be their intention, NOAA is effectively zoning sections of the Great Lakes."
Tom Rayburn, vice president of the Lakes Carriers' Association, doesn't foresee a conflict between marine sanctuaries and regular maritime activities.
"What these [marine sanctuaries] are really protecting are the vessels themselves," he said, noting that they are about encouraging tourism and activities around the wrecks, including licensed tours and dives by permitted operators. He says when marine sanctuary areas are being drawn, they exclude ports, shipping lanes and areas that need to be regularly dredged.
"We want to make sure that everyone is thinking about working together holistically and constructively," Rayburn says.
Coast Guard's Role
What is the role of the Coast Guard in the marine sanctuary process? On its website on the Lake Ontario sanctuary, for instance, NOAA says its goal is to manage, research, interpret and improve public access to a significant collection of maritime heritage resources, including historic shipwrecks.
Capt. Lorne Thomas is a Coast Guard veteran, having taken part in the process for the Thunder Bay Marine Sanctuary.
"The role of the Coast Guard is to ensure the integrity of the waterway," Thomas says. "We can back up industry when they provide feedback in these processes."
NOAA regularly consults the Coast Guard when approving a marine sanctuary, but Thomas says the consultation is "informal."
Regulatory Creep?
Fisher links the sanctuary movement with a policy known as "marine spatial planning," part of former President Barack Obama's 2010 National Ocean Policy. Some maritime and shoreside property owners feared that the executive order was a "camel's nose under the tent" for increased federal regulation of all kinds on the Lakes.
Once established, they argued, these regulations could one day be used to restrict activities disfavored by certain interests, activities such as shipping, oil drilling, fishing or even the movement of energy. More than 80 national trade associations, including the U.S. Chamber of Commerce, appealed to Congress to block the policy. The order was revoked by former President Donald Trump in 2018.
Former Wisconsin Gov. Scott Walker had originally asked NOAA to install a marine sanctuary in 2014 but withdrew his request in 2018 after receiving strong objections by property owners who feared federal management of the sanctuaries would impinge on their property rights. In his withdrawal letter to NOAA, Walker said the state was already taking steps to protect historic wrecks and didn't need federal assistance.
Another WOTUS?
Concerns about negative commercial shipping impacts are similar to those farmers and landowners raised about the drawn-out federal redefinition of the waters of the United States (WOTUS). Presented under former President Obama, WOTUS provoked numerous lawsuits. It was reversed under former President Trump and is now being contested again under the current administration of President Joe Biden.
Many farmers and landowners saw the redefinition, which focused on how wetlands are defined under the Clean Water Act, as a federal power grab that would effectively deny property owners their rights under constant threat of penalty from the U.S. Environmental Protection Agency – or of being tied up in endless litigation.
Lake Ontario Sanctuary
These issues and questions are again coming to a head around the latest proposed marine sanctuary. In April 2019, NOAA announced its intent to designate a national marine sanctuary in New York's eastern Lake Ontario. The area being considered was proposed by four counties that border Lake Erie: Oswego, Jefferson, Cayuga and Wayne in 2017. That process is still underway.
With "input from the public, stakeholders and in consultation with the state of New York," NOAA published a draft environmental impact statement (EIS) and draft management plan to designate the sanctuary in eastern Lake Ontario and the Thousand Islands region of the St. Lawrence River. The EIS presents three alternatives:
A no action alternative, (i.e., no sanctuary),
Alternative One, which would include 1,724 square miles in eastern Lake Ontario, extending some way up the south (United States) bank of the St. Lawrence River. This alternative would cover 67 known shipwrecks, plus one known sunken aircraft,
Alternative Two, covering the same area, but without the St. Lawrence River coverage.
Navigation, Safety Concerns
In its September 10 formal comment on the proposed Lake Ontario sanctuary, the American Pilots Association (APA) registered strong objections to Alternative 1, which would extend the sanctuary up the St. Lawrence River. While APA is "generally supportive of reasonable efforts to protect nationally significant collection of shipwrecks and other underwater cultural resources," it nevertheless expressed "serious safety concerns about NOAA establishing a national marine sanctuary, complete with associated regulatory restrictions, in the busy shipping lanes and areas along the St. Lawrence River."
The association argues that "establishing a marine sanctuary in or around the confined shipping lanes along the St. Lawrence River would be incompatible with commercial shipping and port operations, as well as with the Great Lakes Pilots' duties of ensuring navigation safety and protecting the marine environment." It says the sanctuary could result in restrictions on speed maneuvering and anchoring, which would be "ill-advised."
APA also raised safety concerns about encouraging divers to explore wrecks within the river – especially since some diveable wrecks are within active shipping lanes. It objected to language within the Draft Environment Impact Statement that "Implementing Alternative 1 would have no impact on commercial shipping … because commercial vessels would not be affected by the proposed sanctuary regulatory concepts." The impact statement also says that these regulations would apply only to protection of underwater cultural resources and would not impede the operation of vessels.
APA has no objections to Alternative 2.
The AGLPA has also objected to Alternative 1 for similar reasons. It has raised the question of whether these sanctuaries could conflict with future disposal sites for dredged material and urges NOAA to consult with the Corps.
In the end, the debate over marine sanctuaries is not about whether to preserve shipwrecks. All parties involved agree it's a worthwhile goal. Its about a familiar topic how to respond to the increasing scope of federal regulation.
"It's not that anyone opposes preserving shipwrecks," Fisher says. "Everyone thinks it's great. But why do we need a new layer of federal regulatory enforcement? Those wrecks are already protected by the states."
Fisher sketches out various scenarios, such as a Great Lakes vessel encountering a sudden storm forcing it to anchor in a protected area. What if it damaged a wreck whose location was not previously mapped or known? Would the vessel's owners incur liability or civil penalties – even if it was acting prudently for safety's sake and protecting lives?
It's not necessarily what is being regulated today that worries him, says Fisher; it's what might be regulated tomorrow or in a few years if new officials in NOAA decide they want to restrict certain activities. Fishers' concern is that once a regulatory regime is established, it can be added to or expanded without action by Congress by a simple rulemaking. Green points out that even a rulemaking requires further public comment and stakeholder input.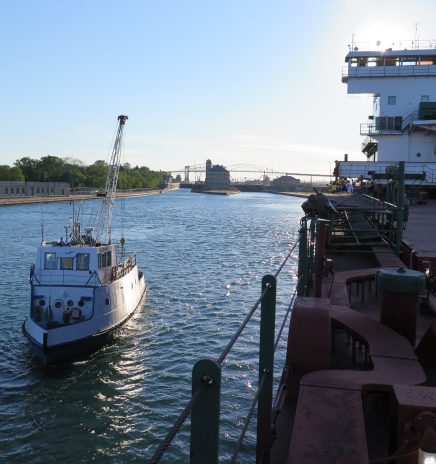 Shipments of limestone on the Great Lakes totaled 3.8 million tons in October, a decrease of 2.7 percent compared to a year ago.  Limestone cargos were above the month's five-year... Read More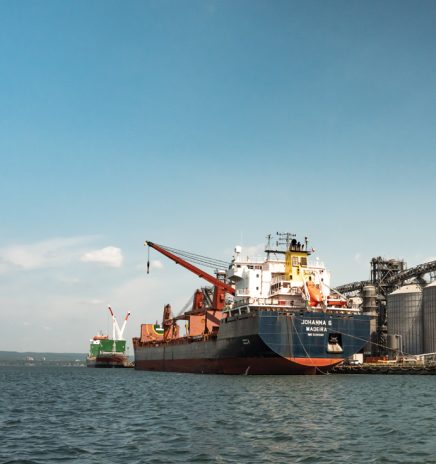 Labor issues, congestion, efficiency and environmental stewardship. All are factors driving some ports on both sides of the border between Canada and the United States to consider the advantages of... Read More