Shifting Cargo: Great Lakes ports look to grow short sea shipping
Labor issues, congestion, efficiency and environmental stewardship. All are factors driving some ports on both sides of the border between Canada and the United States to consider the advantages of short sea shipping, defined as the maritime transport of cargos across relatively short trade routes.
Earlier this year, the Hamilton-Oshawa Port Authority (HOPA Ports) and the McMaster Institute for Transportation & Logistics, with support from Transport Canada, through a data-analysis partnership called "Fluid Intelligence," released a study that highlights the "potential advantages" of developing short sea shipping services between the Greater Toronto and Hamilton Area (GTHA) and the U.S. Great Lakes region.
In discussing Fluid Intelligence's "Foundational Study on Cross-Border Short-Sea Shipping Opportunities," Ian Hamilton, president and CEO of HOPA Ports, admitted the concept of short sea shipping on the Great Lakes isn't new.
"It has been talked about for decades," he said. "I've been at the port authority for 15 years, and it was one of the first conversations I had when I joined."
Historically, though, with affordable fuel prices and ample border crossing infrastructure along the roadways, much of the cargoes moving between the GTHA and the United States have gone by truck.
And yet in the past few years, Hamilton said, conditions have changed to make short-distance marine transport more feasible and attractive for operators, governments, citizens and ports alike.
"We've suffered from real supply chain capacity issues," Hamilton said.
That's evident, first and foremost, on the region's crowded roadways. The Greater Toronto area is arguably the fastest growing region of Canada. At the same time, though, road congestion for the GTHA is one of the worst in North America, Hamilton said. And that congestion carries a steep economic and social impact, said Larissa Fenn, vice president of corporate affairs for HOPA Ports.
"The cost of congestion in the GTHA is understood to be somewhere around $6 billion a year in lost productivity and cost to all the businesses that rely on the movement of goods and people," Fenn said.
In addition, much like every other business sector, the trucking industry has faced labor issues of late.
"There is a chronic shortage of drivers, as well, which is putting pressure on trucking and capacity issues," he said. "That's something that's been very, very well documented."
In contrast to the roadways, the waterways between the GTHA and U.S. ports along the Great Lakes have plenty of capacity—close to 50 percent—still available, Hamilton said. And because of the steep increase in tons-per-trip capacity by vessel, short sea shipping offers a significant environmental stewardship benefit.
"The environmental profile for a ship per ton of cargo moved is dramatically less than that of a truck to the extent that we could reduce it by 90 percent, and that's using today's technology," Hamilton said.
Identifying Opportunities
In view of all those issues, Fluid Intelligence set out to determine where and which cargoes moving between U.S. Great Lakes ports and the GTHA could potentially shift to waterways to the benefit of the transportation system as a whole.
"Fluid Intelligence looked at the areas that were concentric circles 50 kilometers and 100 kilometers outside of major U.S. ports on the Great Lakes, so Milwaukee, Chicago, Cleveland, Toledo and Rochester," Fenn said.
Estimated total weekly cross-border truck trips between the GTHA to within 100 kilometers of those cities totaled more than 18,000. According to the study, that amounts to more than 272,000 tons of cargo transported across the border each week between the GTHA and those U.S. cities.
The study then drilled down to identify how many of those trucks were carrying cargoes suitable for marine transport.
"Currently, over 12,000 trucks per week make cross-border trips between Southern Ontario and U.S. Great Lakes port areas, carrying non-perishable commodities that are ideal candidates for a marine service to handle the long-haul 'middle mile,'" HOPA Ports said in its summary of the study.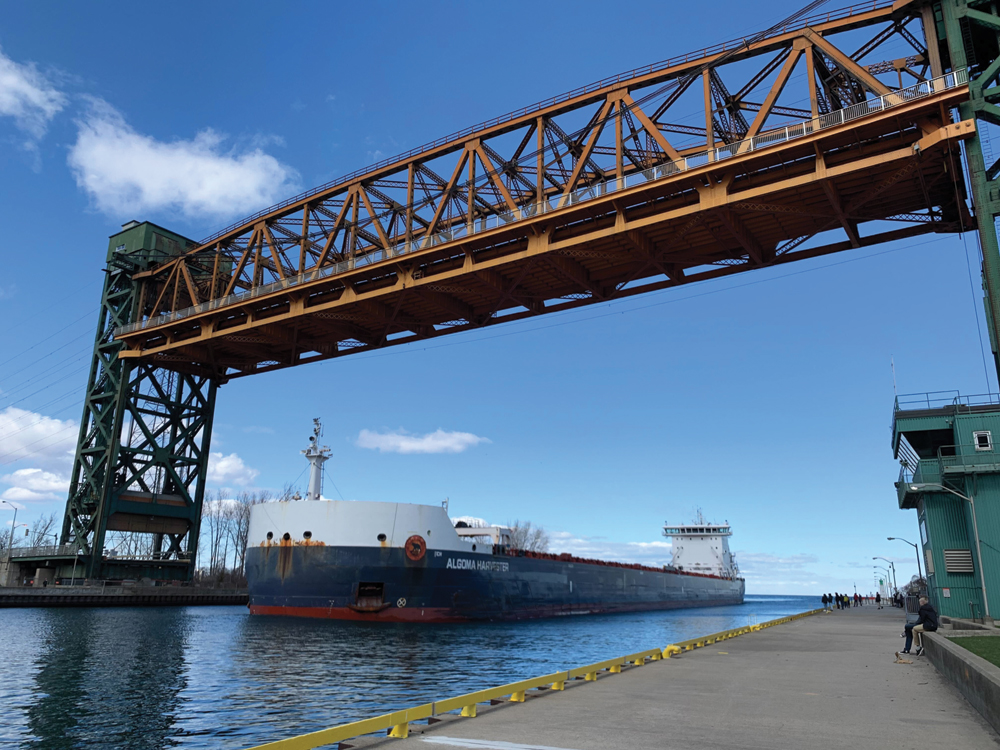 "Not fruits and vegetables and the kinds of things that need to move quickly and really do need to move by truck," Fenn said, "but commodities like scrap metal, hardware, paper and plastics, some kinds of agricultural bulk, agricultural products, and that sort of thing."
Both Hamilton and Fenn emphasized that the study from Fluid Intelligence and any talk of shifting cargo transport from truck to vessel, rather than being anti-truck, is really pro-transportation system as a whole.
"With short sea shipping, if you can put as many as 900 truckloads on a single vessel, you can see what kind of impact that can have on reducing the pressure on drivers," Hamilton said. "Now, it's not to say that it would ever replace trucking, because trucking still has to do the first and last mile. But if we can work in a different modal balance, everybody will win out in this scenario."
"It's the long-haul journeys that they're really having trouble with, in terms of staffing and congestion and gas prices and that sort of thing," Fenn said. "[Short sea shipping] still enables the trucking sector to really own the customer relationship at either end of the journey, while introducing a more efficient leg in the middle."
The study also zooms in on the environmental benefits of shifting some cargo movements from truck to vessel. Overall, the study identified trucking to account for 65.6 grams of greenhouse gases (GHG) emitted per ton-kilometer, while marine emissions were at 8.1 grams per ton-kilometer. Sticking with the primary U.S. Great Lakes port cities examined in the study, Fluid Intelligence concluded that if just 10 percent of tonnage within 100 kilometers shifted from trucks to marine, that could result in a weekly reduction of greenhouse gas emissions of 825.3 tons.
"If we looked at the 50-kilometer radius around the Port of Chicago, there are 2,700 trucks there," Fenn said. "If just 10 percent of those moved to a marine mode, the transportation system would be saving 200 tons of GHGs per week. So, it's really that quantum of benefit both in terms of the number of trucks as well as the environmental impact that comes out of it."
How to Get There
Like any paradigm shift, moving cargoes from road to waterway won't be immediate. On the Canadian side, Hamilton said he's been encouraged by things like Canada's Green Shipping Corridors Framework and discussion of an Ontario marine strategy. That government-level awareness and investment is key to implementation, he said, particularly from an infrastructure perspective.
"Right now, in the Great Lakes, the infrastructure has been designed to deal with what we would refer to as break, breakbulk and liquid bulk commodities," Hamilton said. "As we start to move into more of the consumer goods and more of the containerized traffic, there probably has to be new infrastructure in terms of loading and offloading equipment and also even the configuration of vessels to be better suited to handle these types of goods."
On the regulatory side, Hamilton said gaps exist regarding the ability of the Canada Border Services Agency (CBSA) to handle incoming cargo at port facilities.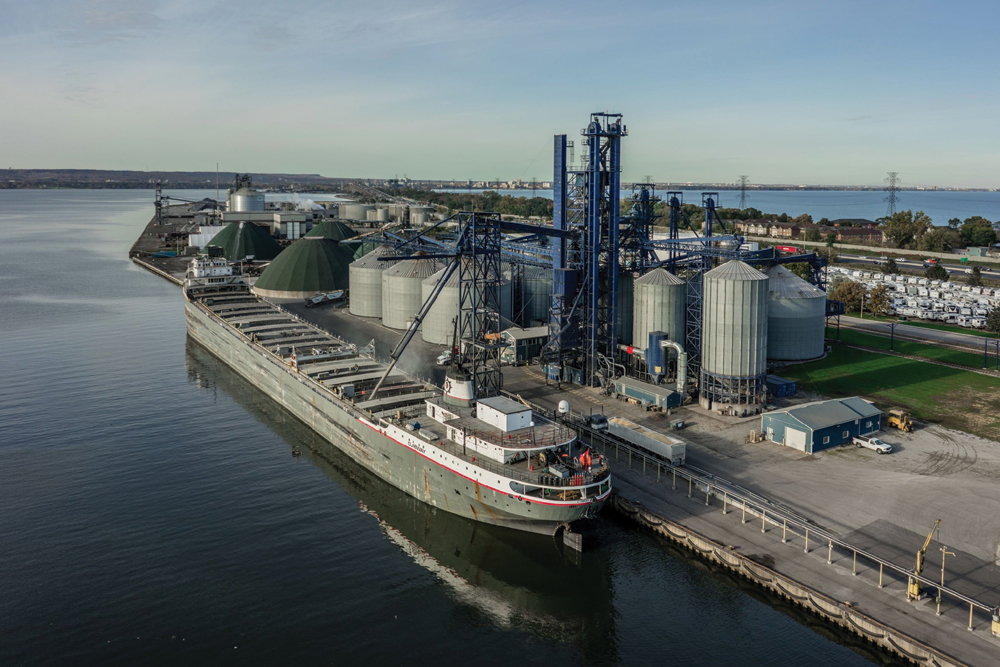 "Right now, CBSA, interestingly enough, doesn't recognize how important it is that we build this supply chain infrastructure, so they haven't been willing to make investments into developing new suffrage warehouses at port facilities in the Great Lakes in Canada, which is preventing us from pursuing some of these opportunities," Hamilton said.
Canada and the United States have made great strides regarding policy, but the regulations must catch up for marine transport to be as free flowing as roadway border crossings.
"It's very good on the land crossings, but again, we just haven't been moving those goods by marine, so we don't have a set of rules to support that," he said.
Beyond cross-border cargo movements, Hamilton said HOPA Ports is also looking at ways to shift truck traffic to the waterways between Canadian ports. One potential route would be moving containers from the Port of Montreal and ports in Hamilton and Oshawa.
HOPA Ports is also planning a pilot project to demonstrate short sea shipping on the Great Lakes. Hamilton said the announcement could come by early October.
Hamilton said the time is right for growing vessel traffic on the Great Lakes through short sea shipping.
"If we can't take advantage of the opportunity today, then shame on us, because with all the problems marine can solve and with all the positive mindsets that industry and government have, then we would hope that its 'strike while the iron is hot,'" he said.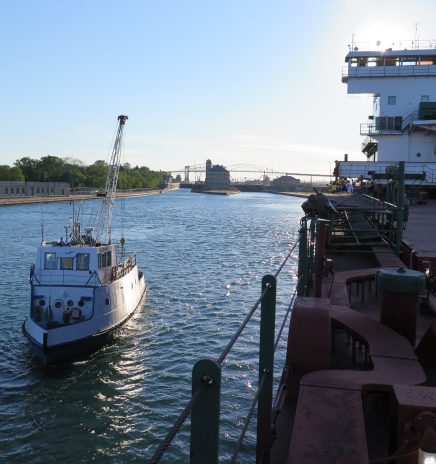 Shipments of limestone on the Great Lakes totaled 3.8 million tons in October, a decrease of 2.7 percent compared to a year ago.  Limestone cargos were above the month's five-year... Read More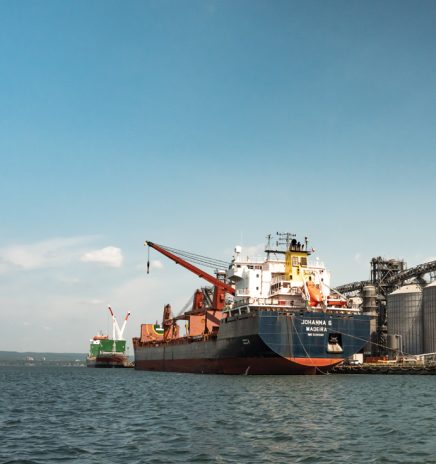 Labor issues, congestion, efficiency and environmental stewardship. All are factors driving some ports on both sides of the border between Canada and the United States to consider the advantages of... Read More