Spliethoff Expands Great Lakes-European Service
There was important news in May regarding new international commerce on the Great Lakes. That's when the UAL Fortitude called at the Port of Duluth-Superior, the start of Spliethoff's new monthly European service between Europe and Duluth. This is the first regular liner service in decades between Europe and Duluth's Clure Public Marine Terminal.
The Port of Duluth-Superior, located at the westernmost tip of Lake Superior, is North America's farthest inland freshwater seaport (about 1250 land miles from New York City). Approximately 800 vessels and 35 million short tons of cargo move through the Port of Duluth-Superior each year, making it the Great Lakes' largest tonnage port and one of the nation's top 20.
Developing Markets
Spliethoff has provided Great Lakes-European general cargo service since 2013. That existing service links the European port of Antwerp, Belgium with various ports in the Great Lakes.
Joe Swartout, Great Lakes and Midwest vice president for Spliethoff, said close working partnerships in Cleveland have been important. Over the last nine years he said Spliethoff has seen interest in service to several other cities, including Duluth. One driving factor, he said, was when freight rates in 2021 and 2022 "went through the roof." He said that freight forwarders sought a way to circumvent US west and east coast congestion, as well as Chicago rail congestion. "Our service helped these customers reduce rail dwell (time) and cost," Swartout said.
Spliethoff has provided service to Duluth in past years, but only within inducement arrangements, i.e., a vessel calls at a port in response to pre-set agreements. Swartout said transit between Duluth and Antwerp takes between 20 and 25 days. He said that "adding Duluth as a regular port call was the obvious next step for our customers. It happened organically." He predicted that regular service, in addition to frequency, would provide customers with greater reliability at a reduced cost.
Swartout explained that for a new service to be successful, there needs to be alignment among numerous parties, including port and customs officials, local authorities, the terminal operator, stevedore, forwarder, broker, agent and the vessel owner and operator.
Swartout credited Duluth Cargo Connect (DCC) for its work in helping to advance the Spliethoff project. "They are shoreside experts," he commented, "we are waterside experts." He added that DCC has a hands-on approach and that they have already seen progress in the service in only a few months. "As Cleveland's success led to Duluth's growth, so too will Duluth's growth lead to new opportunities for Great Lakes ports overall. The pie continues to grow," he added.
Duluth Cargo Connect provides cargo handling, storage, distribution and transportation logistics services for bulk, breakbulk, heavy lift and other project cargoes moving in and out of North America's heartland via the Port of Duluth. It's a working partnership of the Duluth Seaway Port Authority, which owns the Clure Terminal, and Lake Superior Warehousing, which operates the Clure Terminal assets.
Swartout said that Spliethoff and DCC are working on import and export opportunities for local manufacturers, a sector that includes forest products, farm crops, industrial appliances and automotive lubricants. He noted that while Duluth grain exports slowed in 2023, that has been partially offset by an increase in new diversified general cargo. The Port provides transloading and warehousing as well as direct rail access.
Insights: Port of Duluth-Superior
Deb DeLuca is the executive director of the Duluth Seaway Port Authority. The public Port Authority owns and manages the Clure Public Marine Terminal and the adjacent newly developed pier (the Clure Terminal Expansion). The Port also works as a business and economic development agency.
DeLuca noted that while trans-Atlantic ships frequently call at Duluth, the distinguishing factor with Spliethoff's new operations is its regularity. And the service allows for parceling of the ship. "That provides more flexibility," she said, "since no single cargo owner is obligated to fill the entire ship. As a result, we're seeing several different cargo owners using the service for a variety of general cargo/breakbulk and containerized shipments, both export and import."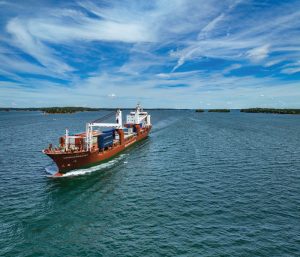 DeLuca was asked about changes in market activity that contributed to a favorable business case for Spliethoff and Port customers. She referenced a combination of added capabilities and the ability to respond to global supply chain challenges.
One new capability was that Duluth, in 2021, became the Great Lakes' westernmost port approved for maritime container-handling, giving the Port the ability to handle significantly larger volumes of international shipping containers. The Port invested in new infrastructure and capabilities to ensure compliance with Homeland Security and U.S. Coast Guard regulations pertaining to containers. Duluth is only the second US port on the Great Lakes system capable of handling containers by direct water connection and the only such port west of Cleveland. This opened up new possibilities for container shipping to be part of a potential liner service cargo mix.
DeLuca commented that recent supply chain challenges, from 2020 to 2022, showed how companies and consumers were dependent on overstretched supply chains, a few coastal ports and "less efficient, more carbon-intensive modes of inland transport." She added that "we knew we could provide a more efficient, flexible, tailor-made alternative for regional manufacturers and producers. Those discussions blossomed into the Spliethoff service that launched this spring."
DeLuca said that use of the Great Lakes-St. Lawrence Seaway System and its inland ports "diversifies and strengthens the North American supply chain, while also reducing congestion and emissions." She added that the most resilient, efficient way forward for cargo transport to, from and within North America is through increased use of our inland waterways and ports, not just for imports and exports, but also for short-sea moves.
"The potential economic and environmental benefits are sizable," she said. "Thus far, our service has been a win for cargo owners, a win for the port, a win for the GLSLSS and a win for Spliethoff, which is great to see. Now we want to keep building on that initial success."
DeLuca also addressed the impacts beyond the Port, and the depth of economic benefits even beyond its westernmost position on the Great Lakes.
She said Duluth's catchment area is huge. The Port has excellent road and rail clearances. "As a result," she explained, "the import cargo we've welcomed with Spliethoff's liner service can end up being destined for locations as far away as Alberta and the Pacific Northwest." She said one of the cargoes received via ship this year was a new type of European agricultural machinery. "It was making its North American debut," she explained, "and drove itself to its final destination: a farm in Iowa."
Conversely, some inbound cargo goes to local customers less than two miles from the Port. "So, it's a broad mix of cargoes and distances," she said. Local manufacturers are using the Spliethoff service to export finished products and import raw materials.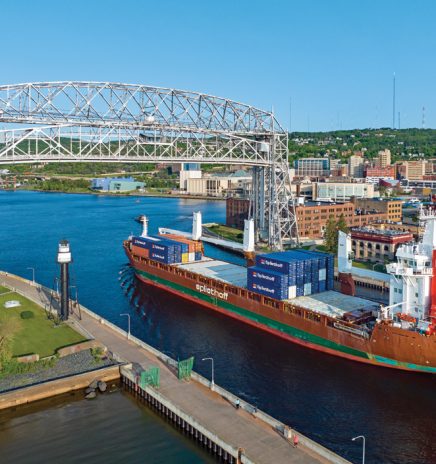 There was important news in May regarding new international commerce on the Great Lakes. That's when the UAL Fortitude called at the Port of Duluth-Superior, the start of Spliethoff's new... Read More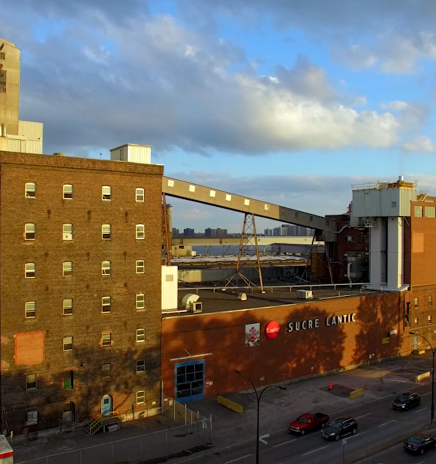 Lantic Sugar, which has a plant on Notre-Dame Street East on Port of Montreal territory, has announced a vast expansion and modernization project. The $200 million overhaul will make it... Read More