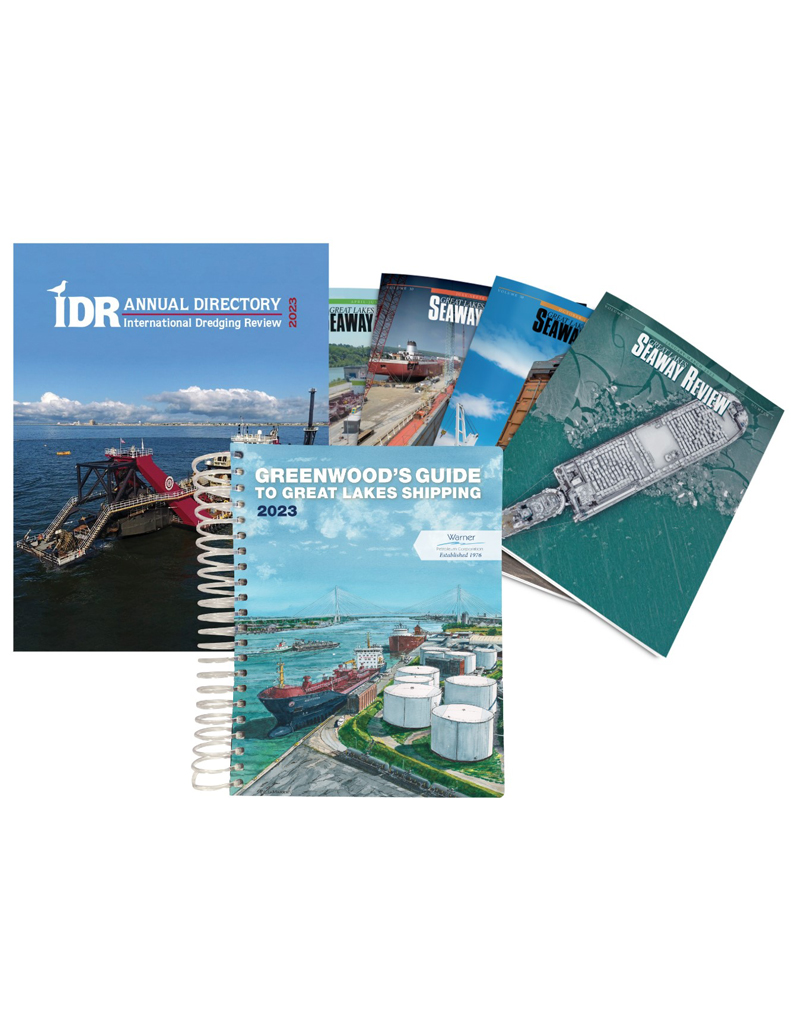 A one-time price of
$99.00
will be added to your order.
*A one-time handling fee of $14.00 will be added to your shipping total at checkout.
The Great Lakes Bundle includes a 12-month (4 issues) subscription to The Great Lakes Seaway Review and 1 copy each of the 2023 IDR Directory and 2023 Greenwood's Guide to Great Lakes Shipping.
---
Great Lakes Seaway Review
The international maritime magazine of the Great Lakes/St. Lawrence Seaway System. Published quarterly, Great Lakes Seaway Review serves ports, terminal operators, stevedores, shippers, fleets, shipyards, technology and equipment vendors, government agencies, nonprofit organizations and binational regulators from 45+ binational port cities.
Greenwood's Guide to Great Lakes Shipping
An essential resource whether you're in the pilothouse or onshore office. Updated and published annually, Greenwood's Guide provides owners, operators, agents, governments, suppliers, logistics experts, terminal operators and overseas shippers with time-saving details on fleets, docks, costs, drydocks, terminal capabilities and more.
The International Dredging Review (IDR) Annual Directory
The all-in-one resource for the dredging industry. Updated annually, the directory includes detailed contact and fleet information, including specifics on individual dredges, for dredging owners and operators worldwide. Additionally, it includes valuable information on the many shipyards, hydrographic surveyors, distributors, manufacturers and other vendors who serve the market.