Marie Strum Receives the Great Lakes/Seaway Review Impact! Award
By Christi Kleiner
Marie Strum, chief of the Engineering and Technical Services Division for the U.S. Army Corps of Engineers Detroit District, is the recipient of the Great Lakes/Seaway Review's Impact! 2022 award. Strum was honored at the Women's International Shipping & Trading Association (WISTA) USA's 2022 Annual General Meeting on Friday, April 29 in Chicago.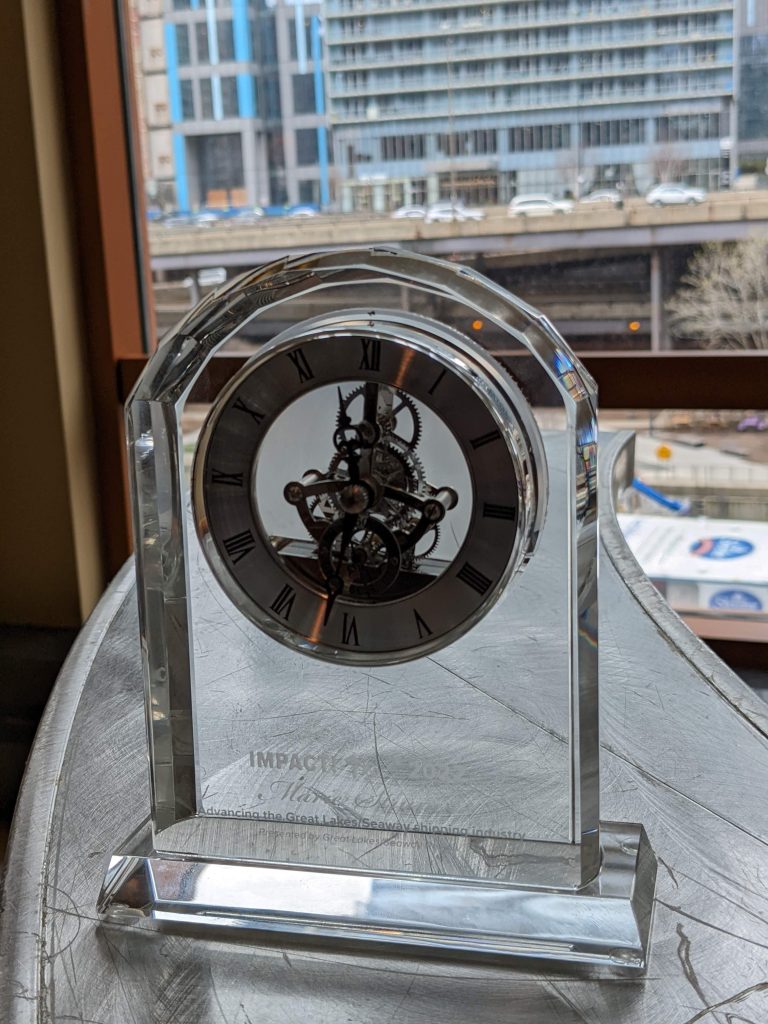 On behalf of Great Lakes/Seaway Review, Gina Delle Rose-Ash, CCLP, with the Hamilton-Oshawa Port Authority, presented the award to Strum for her dedication to the shipping industry. Strum was nominated by several peers for her work in the industry, including Steven Fisher, executive director of the American Great Lakes Ports Association; Esther Johnson, assistant chief of the Operations Division for the Detroit District of U.S. Army Corps of Engineers; and James Weakley, president of the Lake Carriers' Association. 
Strum has dedicated 22 years to establishing and strengthening the regional navigation community on the Great Lakes. Her leadership and technical skills have culminated in her becoming the first woman to serve as chief of the Detroit District Operations Division. Over the last two decades, Strum has worked closely with agency stakeholders to more effectively serve the Corps' navigation mission in the Great Lakes. Strum organized and leads the Great Lakes Navigation Team, a regional group of 20 members from the Buffalo, Chicago, and Detroit districts. This coordinated effort has led to a more effective flow of information about regional project needs and has resolved inconsistencies between the districts.
Strum's innovative ideas have resulted in additional funding for Great Lakes navigation projects. She established a budgeting process with the Great Lakes Navigation Team based on a prioritization and consensus strategy to address funding for dredging, dredged material management, navigation structures, and Soo Locks Asset Renewal. This includes a doubling of Great Lakes navigation operation and maintenance funding from $87.3 million in fiscal year 2013 to $210.8 million in fiscal year 2021. Strum and her team have also been critical in getting the Soo Lock project developed and under construction, with more than $411 million already secured to date from both Congress and the State of Michigan.
A native of Detroit, Strum graduated from Michigan State University in 1985 with a Bachelor of Science Degree in civil engineering. She received a Master of Science in environmental systems engineering from Clemson University in 1987. After working in the private sector for 13 years, Strum began her career with the Detroit District in 1999 as a hydraulic engineer. In 2016, she became chief of the Engineering and Technical Services Division of the Detroit District.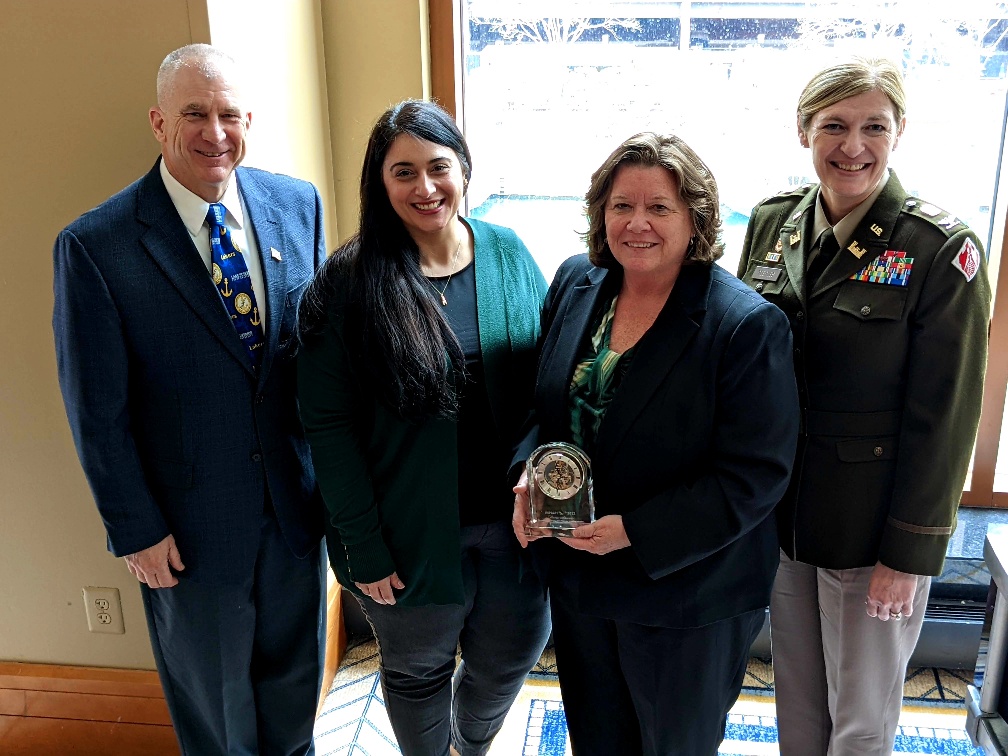 The Great Lakes/Seaway Review spoke with Strum about her award and why the navigation industry and the Great Lakes mean so much to her.
GL/SR: What does this award mean to you and to women in the navigation industry?
Marie Strum: It was a great honor and I think it reflects our close relationship and ties with our stakeholders and our entire team. It has been a privilege to work on the Great Lakes Navigation Team, but a big part of this is our outreach to stakeholders. We are all working toward the same goal to communicate the value of Great Lakes navigation, and that has translated to additional funding. It was a great experience to be recognized. It might a male-dominated industry, but I see change. Being at the WISTA conference and sitting in a room with so many accomplished women in the industry, and having the opportunity talk to them and share our different experiences was a wonderful opportunity. I see it in our agency as more women enter the workforce. The goal is that we don't think about gender, we just do our jobs and I think that is what the future will hold for the younger generation. 
GL/SR: What led you to transition to a career in this industry? 
Strum: I am a civil engineer by training. I've always loved the water and I grew up by the Great Lakes. I came to the Corps 22 years ago and I told my husband at the time that this was my dream job. I was involved with investigating water levels, forecasting, and now navigation. I became involved with the Great Lakes Navigation Team 17 years ago, and to see the progress and the fruits of our labor materialize has been rewarding. Our team and the stakeholders have been very engaged in communicating the value of the navigation system and its importance to the national economy. I now hear congressional members speak about how they now need to treat this as a system. That was our message 17 years ago and now we are hearing that terminology today. 
GL/SR: What has been most rewarding about your career with the U.S. Army Corps of Engineers?
Strum: Working with this diverse group of professionals from Buffalo, Chicago, and Detroit has been inspiring. The navigation stakeholder group is also very active and we all communicate so well. We consider ourselves part of the same team and that has been enjoyable, as well as rewarding, because we believe in the mission. It is so important to the economy of the region and the nation. We didn't feel like it was being communicated well enough early on, but the team has worked hard to get the message out and to see how that has resonated and to see the progress is rewarding. Great things are happening across the region.
GL/SR: Why do you think recognizing women in shipping is important?
Strum: It is important for newer people to the industry see women be recognized. The small part I have played in the movement has led to additional recognition and funding. Seeing their future and that women are a full part of this industry, not on the sidelines, is instrumental. We are influencing decisions and change. There is no limit to what they can do themselves because the influence they have will help future generations.
About the Impact! Award
In 2020, the Great Lakes/Seaway Review partnered with Women in Logistics to create and coordinate the IMPACT! award. The Impact! award is presented each year to an outstanding woman based on her contributions to the Great Lakes Seaway system and the shipping industry.  Nominated by her peers, she contributes to the betterment of the Great Lakes/Seaway system, has a style of leadership which garners respect and action, and an attitude of sharing accomplishments with the staff around her.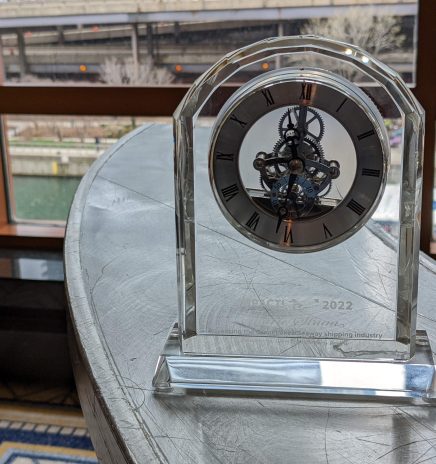 Help us recognize our industry's influential women! INSPIRED BY THE WOMEN AROUND US, Harbor House Publishers and Great Lakes/Seaway Review will soon accept nominations for the IMPACT! 2024 Award, an... Read More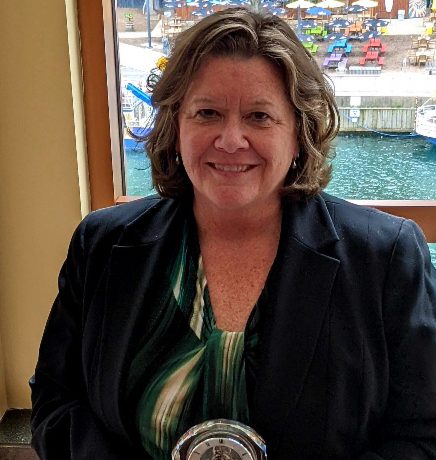 By Christi Kleiner Marie Strum, chief of the Engineering and Technical Services Division for the U.S. Army Corps of Engineers Detroit District, is the recipient of the Great Lakes/Seaway Review's... Read More