Working To Build Great Lakes And European Commerce
Efforts to expand Great Lakes trade and commerce were the focus of two high-profile, concurrent international events in October.
One event, October 3-6, was organized by The Conference of Great Lakes St. Lawrence Governors & Premiers (GSGP). Officials from GSGP met with their counterparts from the Port of Antwerp to sign a Memorandum of Understanding (MOU) pertaining to common interests and coordinated actions to expand trade between Great Lakes ports and Antwerp and add additional European ports in the near future.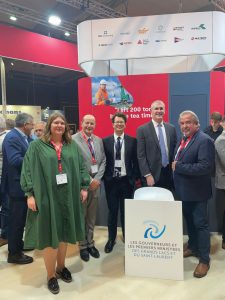 The GSGP participants included:
• Adam Tindall-Schlicht, executive director, Port Milwaukee, who, in December, was named administrator of the Great Lakes St. Lawrence Seaway Development Corporation (GLS);
• Peter Kramer, director of business development & strategic initiatives, Lake Superior Warehousing;
• David Naftzger, executive director, GSGP;
• John Schmidt, program manager, GSGP
The second event, October 4-6, was the AntwerpXL 2022 breakbulk exposition held in Antwerp. The breakbulk expo focuses on oversized, massive cargo. GLS officials headed up efforts to publicize and market Great Lakes shipping opportunities and advantages. The GLS has two major roles: to operate and maintain the St. Lawrence Seaway between the Port of Montreal and Lake Erie, within U.S. territorial limits. Second, to undertake trade development to enhance the entire Great Lakes – St. Lawrence Seaway System. (Click here for AntwerpXL 2023 info.)
The GLS team included:
• Rebecca Yackley – director of the Office of Trade & Economic Development, and,
• Peter Hirthe – international trade specialist and regional representative.
GLS officials are preparing plans for another trade mission to Germany, likely in the spring, 2023 (more below).
Here's a closer look at some of these important issues:
The Memorandum of Understanding
The four-page MOU builds on a common awareness and understanding of trade and related opportunities developed by GSGP and Antwerp Port Authority officials. The purpose of the MOU is to "grow the regional economy, increase the internal movement of goods across the region, to expand the movement of goods to and from foreign markets and to create jobs." The document cites important and strong trade links between Great Lakes ports and Europe and seeks cooperation on the following efforts:
• Operational excellence, including safety and security and communication and marketing;
• Business development and marketing;
• Innovation, with particular reference to sharing intelligence on emerging technologies and best practices on new innovations and digitalization; and,
• Sustainability and environmental performance "such as low carbon footprint strategies."
The MOU is not an enforceable treaty, of course, and it doesn't make any financial commitments. It was actually finalized in 2020 but COVID-19 prevented a meeting of the parties involved. It is to last 10 years, but will be evaluated every three years. It's a friendly, working document, not a formal one with punitive or enforceable clauses.
System Improvements
One reference within the MOU cites awareness of "the need to improve the respective systems in terms of the growth of international trade and its structural changes."
John Schmidt, with GSGP, was asked to expand on some of the issues referenced in the MOU.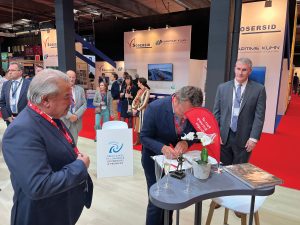 Regarding system improvements, he cited a few examples: installation of hands-free mooring at the Soo Locks, implementing a voyage optimization system and "infrastructure to help reduce greenhouse gas emissions such as biofuels." He said work at the Port of Antwerp-Bruges is a guide for the entire system and that Antwerp has provided technical assistance to GSGP on these topics.
Schmidt specifically highlighted work on biofuels. He noted GSGP's participation within a MARAD project to develop a Great Lakes "decarbonization strategy." (See Great Lakes/Seaway Review, Oct-Dec, 2022).
Two central activities for Great Lakes trade officials are to facilitate and help current regional shippers and ports and, of course, to expand that economic activity, to attract new customers, so to speak. Schmidt was asked how the MOU will help with those efforts. He said that many international shippers aren't familiar with the Great Lakes – St. Lawrence Seaway System and what it can offer, "so they don't use the system at all." The MOU and teamwork with Antwerp will expand awareness. He said that one job for the Seaway is "better communication about its advantages so that shippers and our regional economy can benefit." He said new investments are helping to improve efficiency, safety and environmental performance. Now "it's time to put ourselves in front of current and prospective shippers," he commented.
New Ideas
In an announcement about the MOU event GSGP noted new leaders with new vision throughout the Great Lakes. [Adam Tindall-Schlicht, director at Port Milwaukee during the MOU trip, was named to the AntwerpXL 40-under-40 at the conference.]
When asked about new leadership and vision, Schmidt commented that while different people bring their own ideas to the system and its operations a few common themes have emerged, including new technologies, greener performance and new partnerships.
Schmidt said that maritime transport is the "greenest way to move something from point A to point B" and that the Seaway allows cargo to move from ports already close to mines, mills and farms. He said that new technologies are increasing environmental performance and safety and that operational efficiencies are improving because of optimal speed capabilities and route selection.
He added further that domestic and international companies are increasingly looking for transport capabilities and performance that are aligned with environmental concerns – and sometimes even national environmental concerns – to lessen environmental impacts. Because of these green priorities, Schmidt predicts transport on the Seaway "will only increase in the next five to 10 years."
Schmidt was asked about the "new vision" for the Great Lakes – St. Lawrence Seaway System – what does that look like? He said that while the vast majority of Great Lakes cargo is bulk and breakbulk commodities, container service presents opportunities for growth and diversified operations. He cited, as an example, the Spliethoff Group's service currently operating twice a month between Cleveland and Antwerp-Bruges. He further noted approval by the U.S. Customs and Border Patrol allowing the Duluth Seaway Port Authority to process containers. Other U.S. Great Lakes ports are working to add container service. Schmidt said that considering the "new and improved value proposition for the region – safer, greener and more efficient – the future of container trade on the Great Lakes and St. Lawrence River is bright."
As trade increases, in frequency and volumes and types of cargo, Schmidt was asked about how Great Lakes ports need to prepare and whether some facilities are more interested than others in expanded European trade.
He noted that the Great Lakes – St. Lawrence Seaway System is currently estimated to use only about 50% of its full capacity and that many Great Lakes ports similarly have significant capacity available. He said that "several ports are aggressively preparing for growth with major investments." He cited Milwaukee's recent Port Infrastructure Development Program (PIDP) grant from MARAD, funding that will help build a new agricultural commodity transload facility for bulk shipments, additional storage capacity, hopper access for rail and trucks and a bulk loading system for deep-draft vessels. In December, MARAD announced new PIDP grants, including awards to four Great Lakes ports –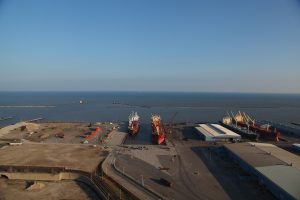 Port of Cleveland – $27.2 million for warehouse modernization, stormwater infrastructure, a maintenance facility, and port electrification.
Port of Green Bay – $10.13 million for site development work to convert a former power plant site into a new cargo handling facility.
Port of Monroe – $11.1 million for wharf redevelopment, sheet pile replacement, reconstruction of a slip and port electrification improvements.
Port of Detroit – $16 million for enhanced rail connections, dry-bulk storage areas, warehouse construction, dock repairs, liquid bulk storage facilities and a new fueling berth.
Finally, Schmidt was asked about environmental impacts: does significantly increased trade, and different cargoes, present new environmental concerns about invasive species, ballast water and perhaps more traditional concerns about increases in sulfur and nitrogen oxides and particulates?
He said that GSCP continues to work with regional partners to improve environmental performance. He said that while shipping is the greenest way to move bulk commodities, "that doesn't mean it can't be even greener." He cited again the work on biofuels and MARAD's work on a decarbonization strategy.
As noted above, AntwerpXL is an industry-trade show exposition that seeks to provide a platform for the breakbulk, RORO, heavy lift and project cargo industry. It's a business and networking opportunity to showcase innovative technology, ideas for overcoming industry challenges and make connections. Attendance in 2022 exceeded 3,000.
Rebecca Yackley is director of the Office of Trade & Economic Development and Peter Hirthe is international trade specialist and regional representative, both working within U.S. DOT's Great Lakes St. Lawrence Seaway Development Corporation (GLS).
In an interview, Yackley and Hirthe explained that they were on a marketing mission at AntwerpXL. They did not participate directly in the GSGP MOU event but, of course, officials from each group were aware of the separate events.
Yackley and Hirthe said their marketing focus was on Great Lakes breakbulk logistics among all Great Lakes ports in the United States and Canada. Their message: the Great Lakes provide a direct route to North America's heartland, frequently the closest mile to a final destination. Congestion is not an issue. And Great Lakes ports are not impacted by supply chain issues.
The GLS works to facilitate opportunities between port officials and shippers. They work similarly with cruise officials. "We do a lot of educating to help people," Yackley said. "We tell them all of the great things about the Great Lakes."
She noted a range of awareness about the Great Lakes – St. Lawrence Seaway among expo participants. While some people already use the system; it was new to others.
Hirthe commented that AntwerpXL "increased our visibility" because the event occurred between other recent events pertaining to the Great Lakes. He said that because Antwerp is such a key hub it offers invaluable exposure to many carriers and Antwerp serves as a port of origin for U.S. and Canadian ports.
The GLS team is working on a follow up event to help Seaway interests contact and reach out to other European ports, particularly German ports. Herthe said plans include another U.S.-Canadian trade mission, this time to Germany as soon as mid to late spring.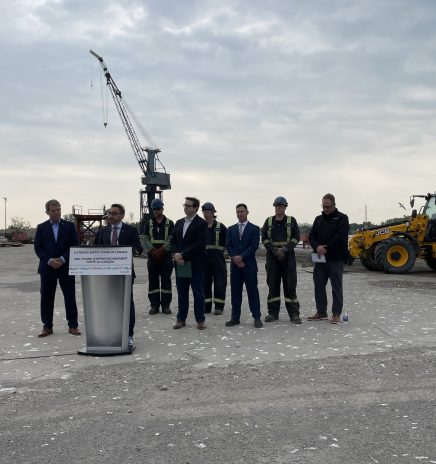 Canada's Minister of Transport, the Honourable Omar Alghabra, has announced an investment of up to $5.2 million, under the National Trade Corridors Fund, for the second phase of the Port... Read More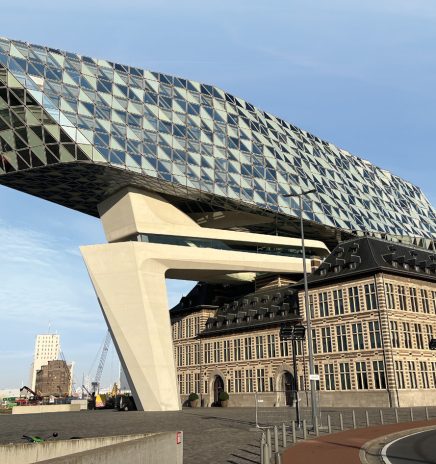 Efforts to expand Great Lakes trade and commerce were the focus of two high-profile, concurrent international events in October. One event, October 3-6, was organized by The Conference of Great... Read More