Doubling Maritime Trade: Experts Present Progress and Initiatives to Bolster Regional Shipping Business
Reducing environmental impacts, improving operational efficiency and creating a capable, technology-savvy workforce were among the topics addressed at the Conference of the Great Lakes St. Lawrence Governors and Premiers leadership summit on maritime transportation.
The webinar, the first of a series, included three panelists addressing topics important to moving the region forward through implementing the conference's five-year action plan, according to David Naftzger, executive director for the binational group.
Moderator Jack Marchbanks, director of the Ohio Department of Transportation, introduced the panelists and gave an overview of why the action plan is important.
"I am sure many of you are aware that the Great Lakes system is connected to the Atlantic Ocean to the east via the locks of the St. Lawrence Seaway operated by Canadian and U.S. seaway corporations and to Lake Superior to the west via the locks of Sault Ste. Marie, the Soo Locks, operated by the U.S. Army Corps of Engineers," he says.
"The Great Lakes connect us. Our economies and the health of our governments depend on our collective actions and caring for this great shared resource. The Great Lakes/St. Lawrence Maritime Transportation System is one of our region's competitive advantages with a network of more than 100 commercial ports generating more than $30 billion in annual revenues. Maritime transportation is the backbone of the $6 trillion regional economy.
"Five years ago, the Great Lakes St. Lawrence Governors and Premiers developed the first strategy to boost the efficiency and competitiveness of the regional maritime transportation system. In that time, our region has seen unprecedented progress, including securing authorization and full federal funding for a new Soo Lock, launching Cruise The Great Lakes to promote the regional cruise industry and developing a regional solution for passenger customs clearance. We built a transatlantic partnership with the port of Antwerp in Belgium, a primary gateway port for our region to western Europe, and we've developed an innovative Smart Ships Initiative that is helping to position our region at the forefront of cutting-edge technology. Building on these successes, the governors and premiers developed a five-year action plan meant to encourage smart and green maritime systems that will meet future demands."
Meeting Environmental Goals
Panelist David Bolduc David Bolduc discussed a newly released report surveying maritime transportation environmental best practices and new technologies.
Bolduc is executive director of Green Marine, an environmental certification program for the shipping industry in North America. About 60 ports, terminal operators and shipowners take part in the program in the Great Lakes/St. Lawrence Seaway region.
In the survey, Green Marine looked at the Baltic Sea, Port of Antwerp and Rhine River as peer systems and asked stakeholders about key environmental issues such as air quality and climate change, water quality, biodiversity, waste management and the community impact of port operations.
"The study looks at ways to improve the environmental performance of our maritime transportation system," Bolduc says. "This is, however, a very broad concept, and really we have to focus on a limited number of environmental issues. We do focus on greenhouse gases emissions more than anything else in the report. This is certainly the most urgent environmental challenge that were all facing."
He notes that companies in the region are beginning to implement many of the identified best practices.
"Some of them may not be very widespread yet, but we have several leaders in the system trying out new things," Bolduc says.
Ship-side examples include buying a liquefied natural gas-powered vessel, testing out various bio-fuels, certified zero waste ships and install- ing scrubbers. On the land side, they include shore power, electrical loading equipment, predictive data analysis to improve the flow of truck traffic in ports and, at the Port of Milwaukee, harnessing wind power to produce electricity for their office building.
The study looked for quick wins to improve the environmental performance of the entire system and includes about 50 recommendations. Bolduc offered the top 10. Of those, four relate to climate change.
"The most important short-term goal in that regard is to monitor your emissions and improve them by improving the energy efficiency of your operations," Bolduc says.
He suggested that ports assess their use of shore power as well as the impacts of climate change on maritime infrastructure. Shipowners should carry out energy efficiency audits, Bolduc adds, noting that digitalization can play a very important role in that regard.
High-level strategies for federal, state and provincial governments should include promoting research and development, planning for a long-term energy transition away from fossil fuels and incentivizing green shipping.
"Finally, I couldn't not mention the harmonization of U.S. and Canadian approaches," he says. "The Great Lakes and the St. Lawrence River are a single maritime system and also a single ecosystem, so the rules should be the same on both sides of the border as much as possible."
The study is available at green-marine.org/2021/09/21/new-report-on-the-opportunities-to-improve-environmental-performance-in-the-great-lakes-st-lawrence-maritime-transport-system/.
Utilizing Technology for Efficiency
Another panelist, Dr. David Closs, professor emeritus at Michigan State University's Axia Institute, talked about shipping opportunities and challenges for the Great Lakes, including findings of a study on taconite shipments. Taconite represents 65% of the tonnage on the upper four Great Lakes and 31% of the shipments.
Study organizers interviewed 15 people from a total of eight mines, mills, carriers, and industry and governmental organizations about using a traffic management system such as NxtPort from the Port of Antwerp to improve efficiencies. Such a system would allow ships to schedule time in ports instead of sending shipments as they become available and sometimes having long waits for unloading, which decreases efficiency and increases greenhouse gas emissions. The system would allow those involved to know the locations of the shipments and their routes.
Study organizers found there is not strong industry support for such a system and that those interviewed were more concerned about their competitors having access to the data than they were interested in having better tracking capabilities for their shipments, Closs says.
The study concluded that although there is not support for the NxtPort system in the taconite industry, it may be worthwhile to explore its potential for other cargoes in the upper Great Lakes, including break, breakbulk, containers and roll-on/roll-off.
"While the NxtPort system could facilitate potential container operations or handling of bulk products like steel coil, bars or slabs, it does not provide significant improvements for the taconite industry in its current form," Closs says.
Additionally, he says, the NxtPort platform and decision applications may prove more useful in areas of congestion, such as the Soo Locks and St. Mary's River.
Looking Toward the Future
A third panelist, Capt. Drew Ferguson of Capt. Drew Ferguson Davis Aerospace and Maritime High School, provided insight on an innovative project helping the maritime industry develop its future workforce. The specialized school in Cleveland, Ohio also gives students a way out of poverty with successful careers.
The high school uses the faculty, staff and curriculum of the Cleveland Metropolitan School District while nonprofit corporation partner PHASTAR provides thematic curriculum support, professional development for teachers and staff and experiential learning programs that connect students to the industries.
"We combined the experiential learning opportunities and work experiences to engage our students in a meaningful learning environment," Ferguson says.
The programs include working with local colleges, universities and non-profits to provide students with on-water environmental education and youth boater education and recreation programs, as well as lessons in boating safety. Students participate in river sweeps, watershed preservation programs, boat building activities, boating mechanics courses and recreational boating experiences, among others. They spend time on PHASTAR vessels, including service on PHASTAR's marine safety/EMS vessel, a retired Coast Guard 25-foot RB-S Defender, which escorts commercial ships and responds to emergencies on the Cuyahoga River. This allows them to gain experience working aboard a vessel while also giving back to the community.
All students are required to learn basic water safety as well as first aid and CPR, and those who want to advance can receive lifeguard certification. Students also identify and lead community service initiatives, such as designing life ring and throw rope stations along the waterfront to prevent drownings.
Ferguson adds, "With PHASTAR serving as a primary partner, we are the gateway that allows many of these companies that come to us and let us work out the logistics so they can provide meaningful, direct programming to our students."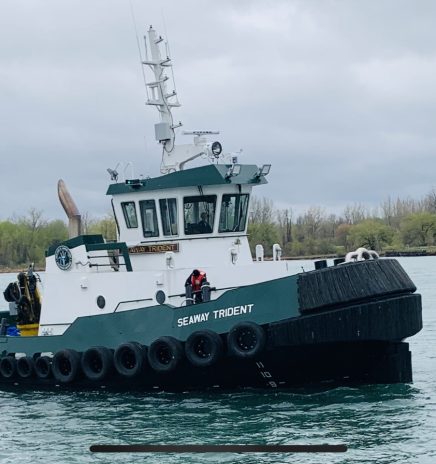 The Great Lakes St. Lawrence Seaway Development Corporation (GLS) has taken delivery of a new ice-class tugboat for maintenance operations. The Seaway Trident arrived in Massena, New York, on May... Read More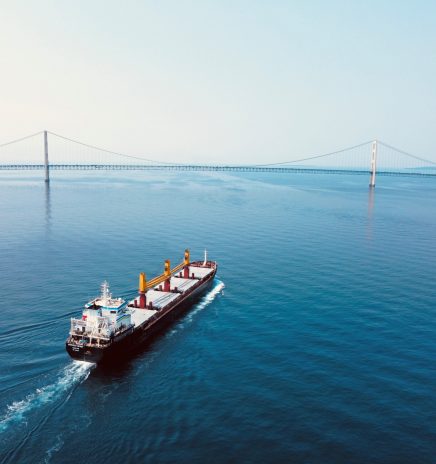 New details have been provided about President Biden's FY2024 budget proposal. The budget, which was released on March 9, includes several important programs for the Great Lakes region.  Great Lakes Region... Read More