Going With the Grain: New and Expanding Facilities Reflect Optimism
By Christine Rohn-Tielke |
Working through the 2021 season, port operators are optimistic about the role grain plays in regional shipping. This follows the challenging 2020 season, when several Great Lakes/St. Lawrence Seaway ports posted respectable and even record cargo volumes.
Infrastructure upgrades and record grain harvests from North America's agricultural interior are paying off.
Setting Records
On Lake Ontario, the Port of Oshawa saw its 2020 tonnage climb to more than 672,000 metric tons, the highest volume ever recorded at the port. The increase was primarily driven by strong grain and cement trades.
In fall 2019, Sollio Agriculture opened its new Oshawa grain terminal in partnership with terminal operator QSL. The facility is a Canadian Grain Commission-approved and Green Marine-certified export facility. The terminal serves about 200 farmers who produce soybeans, wheat and corn in Ontario's Durham Region.
2020 was its first full season operating.
"During the first commercial year spanning June to December, six grain vessels were loaded from the Port of Oshawa, equating to a better-than-expected 82,000 metric tons of grain," says Paul Hazzard, general manager, grain, Ontario for Sollio Agriculture.
Five ships went on to St. Lawrence River trading facilities; the sixth traveled to Europe.
"This new facility's ideal location and modern equipment has reduced trucking distances for many farmers to export their grain, and it has increased the speed at which trucks can unload and store grain," Hazzard adds.
Sollio's Oshawa terminal produced an approximate 10% revenue increase.
"Much of this was achieved despite the Covid-19 pandemic," Hazzard says, noting that experience and the outcome of the 2020 season are creating optimism in 2021.
Hamilton-Oshawa Port Ian Hamilton Authority (HOPA Ports) President & CEO Ian Hamilton notes an extremely busy fourth quarter in 2020, with the season closing positively. In Hamilton, 2,578,753 metric tons of grain moved through the port in 2020, the second-highest volume in the port's history – up 36% from 2019.
Halfway through the current season, year-to-date grain volume in Hamilton is already 12% higher than the same time last year. More than 700,000 metric tons have been exported through June. Global demand for Ontario-grown grain continues with best outcomes based on a good fall harvest in southern Ontario.
Key to improving operations, HOPA Ports is expanding storage and berthing space in both Hamilton and Oshawa. In 2019, HOPA received C$5.5 million from the federal National Trade Corridors Fund to support the Pier 10 Export Expansion Plan at Hamilton. The developing agri-food cluster will provide additional space and infrastructure for grain and sugar. Also, ongoing dredging in Oshawa's harbor will enable its tenants to take full advantage of berthing space.
"In the last decade, we have attracted C$200 million in agrifood investment at the Port of Hamilton, home to 14 agri-food companies, four of which are grain export/processing facilities," Hamilton says. "The port has been a major driver of growth in Hamilton's agriculture and food processing sector, which has taken over as the city's second largest manufacturing sector, generating over C$1 billion in economic activity annually."
Hamilton notes that continued extension of the navigation season into January by the St. Lawrence Seaway Management Corporation (SLSMC) would continue to bolster Canadian ports' grain tonnages – as recent pilot projects have demonstrated.
"The more cargo that moves by water, the more we all win because of marines far superior environmental performance relative to rail and trucking, and its ability to get trucks off congested highways through Ontario and Quebec," Hamilton says. "Each additional ship can take the place of more than 900 trucks, reducing the carbon footprint of the goods they carry by 500%."
Last year, the Port of Thunder Bay handled 9.2 million metric tons of grain, up 1.3 million metric tons Tim Heney over 2019. 2020 was Thunder Bay's best year since 1997.
"The strong, particularly European demand for canola and soybeans kept domestic ships busy, but we also had more than 150 foreign vessels calling on our port – the second highest number since the Seaway's opening," Tim Heney, port CEO, says.
Grain on the River
Sollio Agriculture is also expanding at the Port of Quebec. Construction began in 2018 on a new facility, which became fully operational this spring. Transshipment of 1 million metric tons of grain and cereals to international markets is expected this year.
By 2022, Sollio expects that figure to reach 1.3 million metric tons. Ocean vessels can be loaded year-round at the new terminal, which is supplied by Great Lakes ships as well as rail and road.
"By building the export terminal in Quebec City, our goal was to consolidate our strategic positions along the St. Lawrence Seaway to take advantage of the economic benefits of shipping to supply our new facilities," says Pascal Houle, Sollio Agricultures interim CEO. "At the same time, our ability to receive grain by rail and truck meets the needs of Quebec farmers. After a few months of running-in, we can already see the relevance and immense potential of this large-scale market."
In addition to Sollio's investment, the port received provincial funding and a Canadian grant to assist in upgrading the necessary port infrastructure for the project.
At the Port of Johnstown, the C$12.5 million Grain Export Project, funded through Canada's National Trade Corridors Fund, should be complete this year. The project includes replacement of nine spouts for loading grain into vessels and three new state-of-the-art Neuro spouts. This will improve the efficiency of loading for export and decrease vessel turnaround time, which will reduce emissions and berthing fees.
Johnstown also has had a healthy season start, with corn imports that doubled grain revenue through April compared with last year. The corn is used by the ports Greenfield ethanol facility.
Critical Harvest
Agricultural products generally represent about 40% of all Seaway trade. Last year, large harvests and strong overseas demand substantially increased Seaway grain shipments while significantly offsetting declines in other cargo largely attributed to the pandemic.
The second largest prairie harvest on record amounted to 11 million metric tons of Canadian grain being shipped through the Seaway in 2020 – a 26.5% increase over 2019. U.S. grain shipments increased by 29% to 2.1 million metric tons in 2020, compared to 1.66 million metric tons in 2019.
The latest figures show that through June 30, 2021, total cargo shipped via the Seaway was up 8.37% (12.9 million metric tons) compared to the same period in 2020. Grain was down 5%, however.
"Canadian grain shipments have softened slightly, but this performance is still above the five-year average," says Terence Bowles, president and CEO, SLSMC. "The big question mark will be how the new harvests fare this summer given the current hot, dry conditions."
Despite concern over the 2021 grain crop, early season tonnage at several grain ports looks promising. At the Port of Thunder Bay, early season loadings were very strong, but appear to have returned to normal after the remarkable 2020 volume. Still, the current year-to-date grain tally is the third highest of the past 25 seasons.
"In general, grain shipments through Windsor remain strong in 2021," says Steve Salmons, Windsor Port Authority President & CEO. "However, by June 30, 2021, we are seeing a bit of a slowdown at 3% below June 2020. But even with this decrease, 2021 is still the second strongest year in a decade."
Last year's grain tonnage in Windsor totaled 823,000 metric tons, up from 707,000 metric tons in 2019. Windsor's grain exports include local wheat and corn, in addition to high protein meal for animal feed. Foreign markets include Europe and South America.
Ontario grain shipments have been robust as illustrated by volumes through Port Windsor and the ports of Hamilton and Oshawa. The record prairie grain stock from 2020 has been substantially moved to market due to strong rail transportation to Canadian ports last fall and winter.
In Oswego, the port authority released its Vision 2030 Comprehensive Plan in March 2021. The plan includes redevelopment of Oswego's east dock to establish a Central New York Agriculture Export Center. The state-of-the-art grain facility and silo is funded by a $15 million grant from the state of New York.
According to the Vision 2030 plan, this project will allow for more than 500,000 bushels of grain to be stored and ready for direct ship, rail and truck loading.
"This new facility will allow the Port of Oswego to meet grain export needs in the Great Lakes and make cost-effective shipping in a proximate location available to farmers in the region," says William Scriber, port executive director. Phase Two of the project will expand dockside storage to 1 million bushels.
The Port of Toledo's grain movement of 1.55 million tons in 2020 represented the largest volume in five years. And through June 2021, grain shipments at the port are up 13%, says Joseph Cappel, VP of business development at the Toledo-Lucas County Port Authority.
"It is early in the shipping season, and typically grain shipments peak in the months following the fall harvest, so its a bit difficult to tell how everything will turn out," he adds.
Toledo handles a wide variety of grain, including wheat, corn, soybeans, oats, canola, alfalfa, Dry Distillers Grain with Solubles (DDGs) and other animal feed products.
"Over the past two or three years, we have seen some ocean exports from Toledo with multiple products loaded onto the same vessel," Cappel says. "These grocery boats might have corn or soybeans in one hold and DDGs in another. It is great to satisfy demands for multiple products at the same terminal loading onto the same vessel."
Entering 2021, the Port of Duluth-Superior expressed cautious optimism as total port tonnage increased during the first months of the shipping season.
"2020 was a good Jayson Hron season for grain shipping on Lake Superior and the Great Lakes/Seaway system as a whole," says Jayson Hron, Port of Duluth-Superior's director of communication & marketing. "Grain tonnage approached 1.4 million tons in the Port of Duluth-Superior, finishing near its 2019 total and slightly above the five-season average."
He noted that 2021 grain movement has been much slower.
Through June 30, the 298,199 tons of grain moved through Duluth-Superior was 27% below the five-season average and 35.7% behind 2020 figures.
"A myriad of factors have contributed to this trend," says Hron, "including the strong U.S. dollar, elevated commodity prices and drought conditions through much of the Upper Midwest, which strain crops and further elevate prices."
Even amid the current dry conditions, Great Lakes/Seaway ports are stepping up to the challenge and making the investments needed to increase grain trade across the region.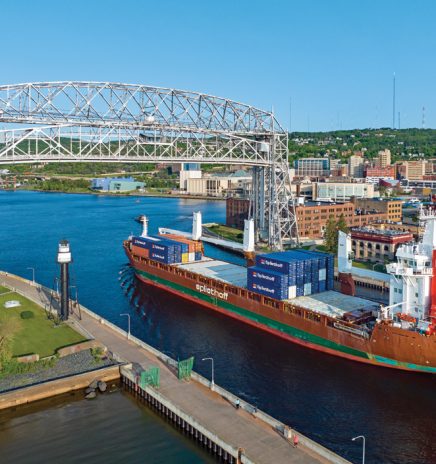 There was important news in May regarding new international commerce on the Great Lakes. That's when the UAL Fortitude called at the Port of Duluth-Superior, the start of Spliethoff's new... Read More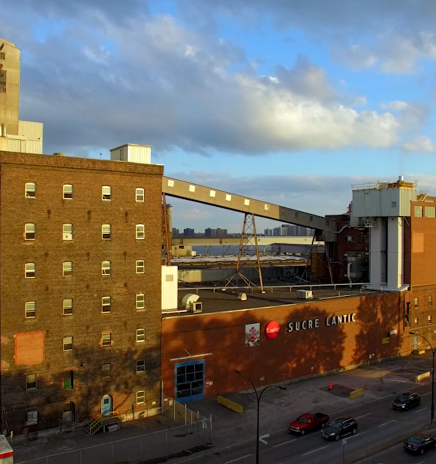 Lantic Sugar, which has a plant on Notre-Dame Street East on Port of Montreal territory, has announced a vast expansion and modernization project. The $200 million overhaul will make it... Read More