Preparing For The Unknown: Seaway, Port Officials Welcome First Ships Of 2022 Navigation Season
With the COVID-19 pandemic seeming to ebb, seaway and port officials are cautiously optimistic about the 2022 season.
"It's amazing how each navigation season has its own character and its own characteristics that evolve through the year," said Craig H. Middlebrook, administrator of the Great Lakes St. Lawrence Seaway Development Corporation, which administers the U.S. side of the binational Great Lakes-St. Lawrence Seaway System. 
"The last two years of the pandemic were very, very interesting," he said. "With all the turmoil in the world and in transportation and particularly maritime transportation in the world, one of the hallmarks of Great Lakes transportation was its consistency."
The seaway is a continuous navigable deepwater system of waterways crossing from as far east as the Atlantic Ocean to as far west as Duluth, Minn., via the Great Lakes and area rivers. The seaway was built by the United States and Canada and opened in 1959.
Coming Out of COVID-19
While long delays were reported at West Coast ports because of supply chain disruptions due to the COVID-19 pandemic, the seaway didn't see that, Middlebrook said. He noted that shipping in the seaway is built around different commodities while the West Coast focuses primarily on containerized cargo and the Pacific trade.
The volume of freight shipped through the seaway was up 1 percent in 2021 over 2020 and, despite the pandemic, still slightly up in 2020 compared to 2019. Overall traffic has also inched upward, he said.
"At the beginning of the pandemic we had no idea what to expect, but amidst all that uncertainty we had pretty regular years," Middlebrook said.
Terence Bowles, executive director of the St. Lawrence Seaway Management Corporation, the agency administering the Canadian side of the seaway, said much the same.
"I think the marine industry adapted very well to that whole situation and worked very well to set up protocols, etc.," he said. "That allowed us to operate with very little effect on the cargo levels."
Long-term, Bowles said, it is possible the pandemic could have the net effect of companies taking a harder look at diversifying long supply chains.
"I think that would be a positive for us," he said. "A lot of that was coming from China."
Helping the Great Lakes-St. Lawrence Seaway System is its capacity for more tonnage and the dependability of its ports for shipping, especially compared to Pacific Coast ports, he said.
Additionally, he said, shipping by water maintains the advantages of decreased costs compared to other methods of shipping and decreased greenhouse gas emissions as well.
Bruce Hodgson, director-market development for the St. Lawrence Seaway Management Corporation, also noted that new commodities are coming into the system, in part because of a gateway incentive to attract cargo currently moving through other corridors.
Recently, he said, there has been an interest in importing phosphates from the Morocco area."That's been an opportunity we've been able to utilize," he said.
Additionally, he said, he has been working with the Soy Transportation Coalition to look at moving product into Europe so as not to be as reliant on Chinese imports.
"So, we see opportunities there," he said.
Lingering Drought Effects
Arguably, the biggest effect on the movement of cargo within the seaway in 2021 was not the pandemic but instead a drought that decreased the grain harvest. 
While the amount of overall cargo increased by 1 percent in 2021, it would have been up 13-14 percent without the drought, which especially affected western Canada, Middlebrook said.
That has continued to have an impact in the early months of 2022 shipping as there is very little grain inventory from last year's harvest left in storage.
"So the start of the season is a little slow as to grain, especially in western Canada,"he said.
That led to a forecast of a "flat" year, with no expected overall growth in shipments, although Bowles said he is now optimistic the season could turn out slightly better.
"Hopefully it's going to be a strong crop," he said. "There's no reason to think why not."
Bowles said he was very hopeful there would be a good grain harvest this year and called last year a statistical oddity.
"We've had record grain crops year after year for quite a while," he said of the time before the 2021 season.
The health of the grain crop will also impact the need to ship fertilizer, and western Canada is a big fertilizer producer and user, Bowles said.
"Last year we exported a lot of potash," he said. "We may export more this year. We have to wait and see. Obviously this was a big wake-up call for everybody."
For years, most North American wheat has been exported through its western corridor, with only about 20 percent going through the eastern gateway, including through the seaway, Bowles said. 
"That's something that may change this year or in the next few years," he said. "Because of our capacity, I think that's a big advantage in addressing some of the supply chain issues that people have."
Hodgson said he thinks with the economy rebounding and a good finish to 2021 "particularly when looking at what's going on in the construction industry," 2022 might trend positively.
"We're certainly primed to import steel," he said.
Many automobile manufacturers are still waiting on the availability of semi-conductors to increase production, however, he cautioned.
"This year, with the hope that we're moving out of the pandemic situation, nonetheless it's still a year where I think there are a lot of question marks," Middlebrook said, in attempting to give a big-picture assessment of Great Lakes and seaway shipping.
Ukraine War Impacts
One of those question marks is the impact of Russia's invasion of Ukraine and the subsequent sanctions on Russia. "With what's happening in Europe and Ukraine, we don't know, as likely nobody does right now, how that is going to affect our traffic patterns," Middlebrook said.
Some products that typically come out of Ukraine and Russia will need to be replaced with exports from other countries, especially as the war continues into the growing season in Ukraine. Russia and Ukraine normally supply much of Europe's wheat crop.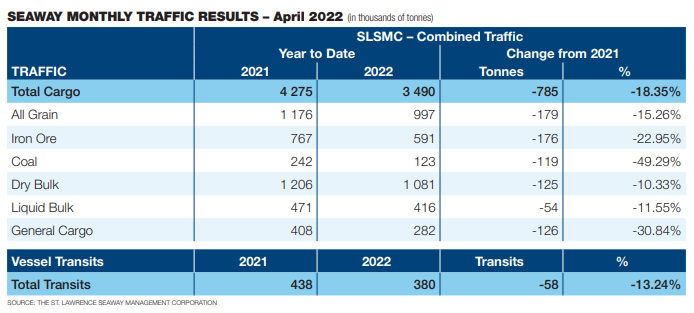 Bowles said there is no question that more grain must be shipped to Europe because the Ukrainian people are not able to meet the demand for it, and European countries continue to sanction Russia by blocking its imports, which include steel as well as grain.
"I think it's going to be positive for U.S. and Canada steel producers," Bowles said, adding that he expects to see more iron ore coming through the seaway to be used in steel production.
"Products that could be affected with what's happening in Ukraine – wheat, fertilizer, steel – those are commodities the Great Lakes seaway system deals in, and we certainly have the capacity to provide those commodities," Middlebrook said.
"Vessels that use the seaway serve every continent and every region in the world, but the primary traffic patterns seem to revolve historically among northern Europe and northern Africa with some to South America," he said, so it would make sense for products moving on the seaway to make up some of the shortages of countries in those regions.
In looking at the number of vessels entering the seaway so far this year as compared to last year, the number is up slightly, which is also encouraging, Middlebrook said.
"I think probably one of the biggest challenges is going to be vessel capacity," he said. "For seaway-sized vessels, the business is there. Is it attractive for seaway-sized vessels to go get it?  Right now I think we're anticipating that it will be."
New for 2022
One of the most visible changes along the seaway is Viking bringing its passenger cruises to the system.
"For two years there hasn't been much business going on as far as cruise ships, but in the last two years they've identified the Great Lakes and the seaway region as an interesting opportunity for that industry," Middlebrook said.
Viking designed two purpose-made, ice-capable ships that fit in the seaway, and docks have been developed along the Welland Canal to receive ships. Cruises will stop there so that passengers can visit Niagara Falls and the city of Port Colburn.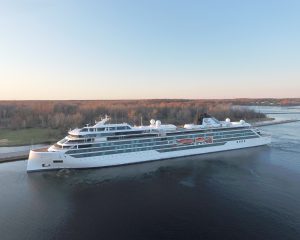 Viking's Octantis sailed up the St. Lawrence River on April 28. A sister ship, the Polaris, will join the Viking fleet later this year. Tourism is off to a record-breaking start on the Great Lakes. More than 1,000 cruise ship passengers stopped off in Port Milwaukee the third weekend in May and port directors are hoping this continues throughout the year.
Other developments along the seaway are not as visible, although also important.
The Great Lakes St. Lawrence Seaway Development Corporation is in the process of building out new technology to enhance its Voyage Information System (VIS).
"This year, 2022, we have kicked that off in earnest," Middlebrook said. "We hope to have something to show for it by the end of this year."
The system will be built into vessels' AIS transponder system to provide more information about their transits, including both historical data and elements like weather, incidents, availability of pilots, and availability of terminal wharfs likely to affect it during its journey.
The VIS system is designed to improve the estimated time of ships' arrival and to become more predictive over time.
"The hope is from origin to destination, before that vessel leaves the dock, we and the vessel operator and those that service the vessel will have a better idea of when that vessel is going to be where," Middlebrook said.
He added that the technology improves efficiencies and adds a level of transparency to the supply chain while also protecting sensitive information.
"We want this to be an interoperable system so that if ports or other entities are using fleet operation software on their own, that can plug into our system and exchange information," Middlebrook said.
The VIS system will also be used to improve scheduling of lift bridges along the Welland Canal, he said.
By the end of the year, developers hope to have completed analysis of years of historical data.
Bowles highlighted market development efforts, noting that the management corporation has an important role identifying needs within the seaway and bringing people and products in to meet those needs.
One program worth mentioning, he said, is the Highway H20 Initiative, which brings together port partners, carriers, and agents to talk about developing markets.
"You have to make your corridor known, and you have to go after business, so that is what we do," Bowles said.
It is also important to continue building upon technology and use digitization where possible to create efficiencies both financially and to promote practices that are environmentally friendly, he said.
Port Perspectives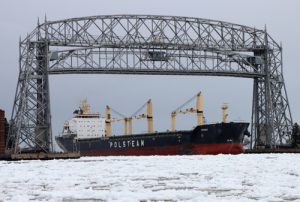 Deb DeLuca, Duluth Seaway Port Authority executive director, said the Michigan port expects both challenges and opportunities in 2022.
"It's going to be an interesting year," she said. "We're still seeing the global supply chain disruptions that started during the pandemic, and those have been exacerbated further by Russia's invasion of Ukraine."
While there are likely to be effects on major bulk commodities throughout the seaway, she said, it isn't entirely clear what those will be.
In terms of general cargo, however, "That's working out to be a pretty decent year," she said.
The first oceangoing vessel of 2022, the RESKO, a 624-foot bulk carrier from the Polsteam fleet, arrived at the port April 13, completing the season's first full transit of the St. Lawrence Seaway en route to the Great Lakes' westernmost port. By tradition, this first full transit marks the annual opening of the Duluth-Superior Harbor, although the interlake navigation season began with the Soo Locks' opening on March 25.
RESKO visited Superior's Gavilon Grain Connors Point Terminal to load approximately 16,200 short tons of spring wheat and 5,400 short tons of durum wheat destined for Italy. The ship arrived in ballast after unloading more than 5,500 short tons of steel skidded coils in Milwaukee, Wisconsin, where it was feted as that port's first international vessel of the season. RESKO's journey originated in Ijmuiden, Netherlands, and also included a stop in Burns Harbor, Indiana.
"Despite winter's lingering chill this year, arrival of the season's first full seaway transit is a true sign of spring and always of the prosperity these great ships help deliver to our region," DeLuca said. "We're excited to see it and excited also to share its Midwestern wheat cargo with the world. It's another example of how Great Lakes-St. Lawrence Seaway shipping delivers the critical goods and raw materials of everyday life."
Looking ahead, DeLuca said she expects wind turbine equipment and project cargoes to be moving through the seaway this year.
Additionally, she highlighted the construction of a new container examination facility designed to allow containers to move on and off the seaway at the port.
Port officials completed a walkthrough and were working on the punchlist for the facility in early May.  The port is collaborating with others toward a goal of establishing regular container shipping service.
"We're working on it, and we may see something in that vein this season," DeLuca said.
Cruise ships will also dock at the port this year for the first time since 2013.
"We've been working in partnership with the city of Duluth and the Duluth Entertainment and Convention Center to establish a customs clearance facility," DeLuca said.
Viking has seven stops at the port this year. American Queen Voyages has two.
"So we're very excited about that," DeLuca said.
The port is also keeping a close eye on the automobile industry as the computer chip shortage affecting auto production could also affect iron ore shipments. She noted that 80 percent of iron ore for first-pour steelmaking comes out of Minnesota and is shipped from one of the Great Lakes ports.
"I don't know what the end result will be yet, but it's something we're watching," DeLuca said.
Meanwhile, the first shipment of cargo for the 2022 shipping season made its way into the Port of Green Bay in Wisconsin on March 18.
The Michigan – Great Lakes (tug and barge) kicked off the shipping season with a delivery of petroleum products to US Venture, Inc. The arrival of the Michigan – Great Lakes marked the end to the annual First Ship Contest put on by the Port of Green Bay and hosted by Discover Green Bay.
The combined tonnage total for March and April was 104,162 tons, down about 21 percent from the opening period one year ago.
"Certainly the weather has cooperated, and we are off to a relatively early return to shipping for the port and the Great Lakes," said Dean Haen, port director. "After reaching close to 2 million tons of cargo last shipping season, we are cautiously optimistic about strong cargo movement this year."
This year the port has added the Marine Traffic app to its website so that it is easier to follow ships as they carry cargo from port to port.
Boat watchers can go to online to www.portofgreenbay.com and click on "Ship Activity" at the top of the page to go to the app that tracks all of the ship traffic.
"We know there are many very dedicated ship-watchers who are aware of how to keep track of the ships in the area," Haen said. "But there are other casual watchers who may also be interested in identifying a ship they see coming into the harbor or on the bay. This app on our website will give them an easy way to get more information."  
The free version that is featured on the port's website identifies the ship and where it is headed along with other information. 
"It makes it fun to be able to identify what ship it is, what it's carrying and where it's going," Haen said.
The Ports of Indiana – Burns Harbor opened the international shipping season April 7 with the arrival of the RESKO on its way to Milwaukee and Duluth.
To commemorate the first ocean vessel of the year, the captain was presented with the Port of Indiana's steel stein, commemorating northwest Indiana's identity as "The Steel Capital of North America." The Ports of Indiana is recognized as one of the top steel ports in the country for inbound and outbound shipments of steel and metal-related products. 
 "Our port handles lakers and river barges year-round, but the first ocean vessel is always exciting for businesses and our workforce at the port," port director Ryan McCoy said. "We truly value the St. Lawrence Seaway's direct connection to global markets and new business opportunities. We're looking forward to growing the U.S. and Indiana economies again in 2022."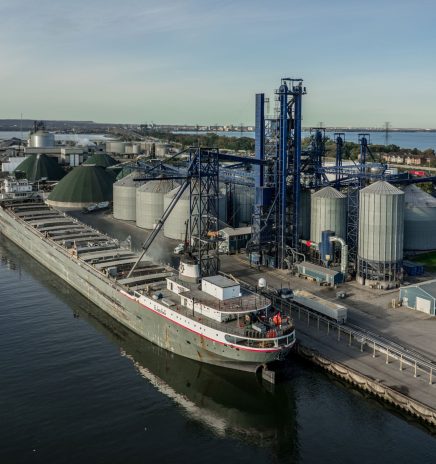 The Hamilton-Oshawa Port Authority (HOPA) has been named the world's Best Dry Bulk Port. The award was presented at the International Bulk Journal (IBJ) Awards gala in London, England, on... Read More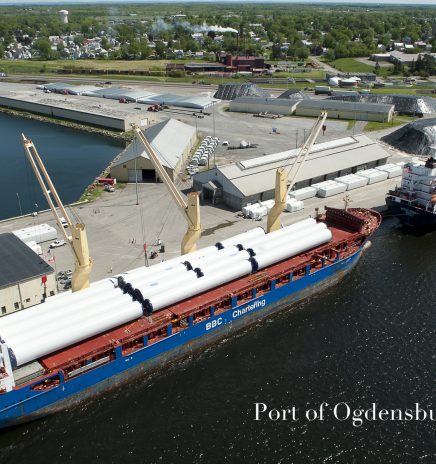 The U.S. Department of Transportation's Maritime Administration (MARAD) has announced plans to invest $653 million in 41 port improvement projects across the nation, including two along the Great Lakes. As... Read More