For the Love of Freighters
Jake Bourdage's career is inspired by dock visits
Standing 75 feet tall with a length of 1,250 feet and width of 60 feet, the steel-framed Lake Superior and Ishpeming Railroad pocket ore dock in Marquette is a monumental structure that Jake Bourdage fondly recalls visiting as a child, but it wasn't just the enormous dock that drew him.
"When I was young, I remember going with my family to the ore dock, and I loved watching the freighters load," he said. "You could hear the taconite slide the down the chutes into the cargo holds of the freighters."
Visits to the dock in his hometown of Marquette were frequent occurrences that highlighted his youth. The enormity of the freighters also impressed the young Bourdage, some of them over 800 feet long, including the M/V Charles M Beeghly renamed the M/V Hon. James L. Oberstar in 2010.
It was Bourdage's interest in the ships that inspired him to seek a career in the shipping industry and led him to become a conveyorman with VanEnkevort Tug and Barge. Bourdage has family and friends to thank for helping him get to where he is in his career today. 
His step-grandfather, who works for Great Lakes Fleet, helped him get started by guiding him through the credentialing process to obtain the two documents required for eligibility to sail on freighters: the Transportation Worker Identification Credential and the Merchant Mariner Credential.
Once credentialed, Bourdage began his career with the help of a friend (who happens to be the daughter of the owner) who let him know when VanEnkevort Tug and Barge had an opening.
"Because Jamie VanEnkevort gave me a heads up, I was able to call at the right moment when they had an opening and soon after was catching the ship in Port Inland, Michigan," Bourdage said.
He began his sailing career with VanEnkevort in 2014 at the age of 19. He started as a deckhand and scaled the hawsepipe to become an able seaman, an assistant conveyorman, and now a full-fledged conveyorman. He gained his knowledge over the years working alongside various crewmembers and helping them with their duties.
"I had great teachers who helped me reach the position of conveyorman, Moving my way through the ranks has been challenging but also very rewarding."
As a conveyorman, Bourdage maintains the conveyor unloading system and equipment that runs it. He says the job can be exacting because, "there are a lot of moving parts to an unloading system, so you're always keeping your eyes peeled for anything that could be failing."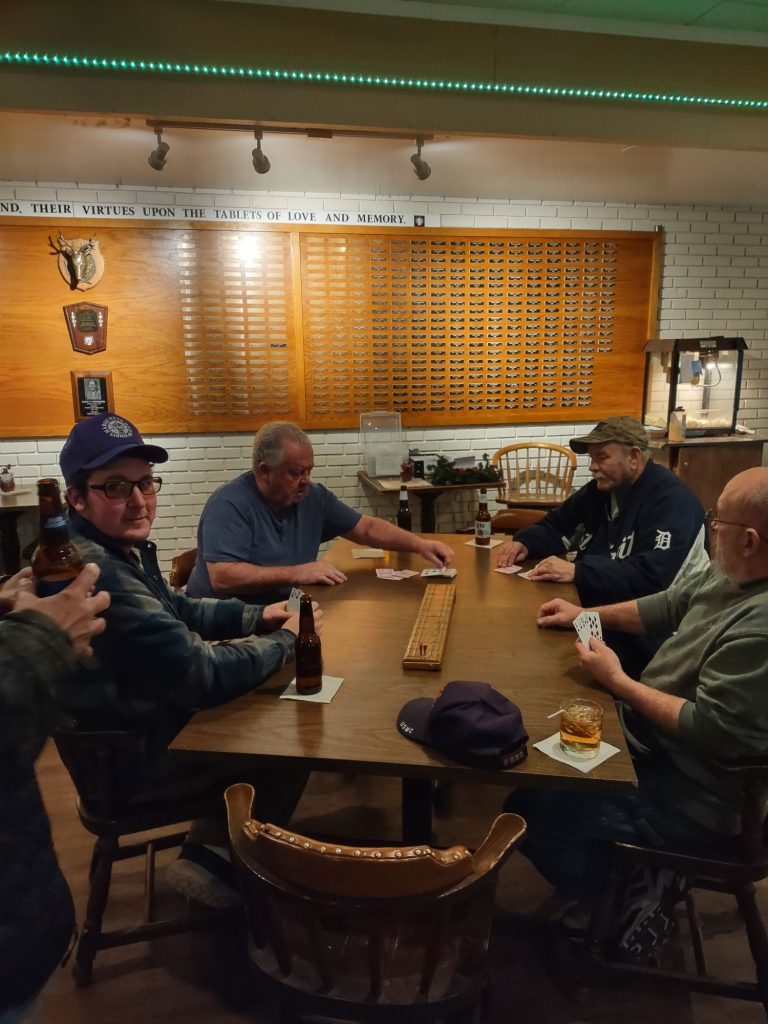 Trials and Triumphs on the Michigan Trader
While he started his maritime career on the Great Lakes Trader, it is the Michigan Trader that Bourdage feels has played the biggest role in his growth as a conveyorman.
Built in 2020 by Fincantieri Bay Shipbuilding in Sturgeon Bay, Wisconsin, Bourdage was part of the crew that commissioned the barge. The commissioning presented challenges and rewards according to Bourdage.
"A new vessel usually has its growing pains, but with the help of the crew, we always got through it, and gained knowledge along the way," he said. "I got to see in depth how things work and get a better understanding about how to work on things. I'm happy to say that after all the growing pains, the barge is now a very smooth-running machine." 
Bourdage sets sail on the Great Lakes Trader for the 2022 season.
The Daily Grind
Bourdage may love his job, but he's not a big fan of the sporadic hours. "Sometimes the ship arrives at the unloading docks at 2:00 p.m., sometimes 2:00 a.m., and you have to be ready to unload the ship whenever that time comes," he said.
His daily grind repeats with 30 days on and 15 off, but he enjoys being on the ship. "When we are on the ship, we really work together to get tasks done. It allows people to gain knowledge in many different areas of the ship. It also allows you to become close with your coworkers and build friendships."
Bourdage is used to working 30-day stints even though it's hard for him to miss birthdays and holidays with loved ones. "When you get your 15 days off, it makes up for it," he said.
Free Time
During the summer months, Bourdage relishes spending downtime at his family's camp and listening to music. He considers himself an "Old Soul" who enjoys classic country like, Conway Twitty and George Jones.
Another favorite activity is playing games. "I can be found playing cribbage frequently at the local clubs and tournaments, and it's known when I play a game of cards you can find a Pabst Blue Ribbon next to me. I really enjoy the company of friends and always have a laugh."
Looking toward the future, Bourdage hopes to continue to keep his career on the lakes that he loves – the Great Lakes.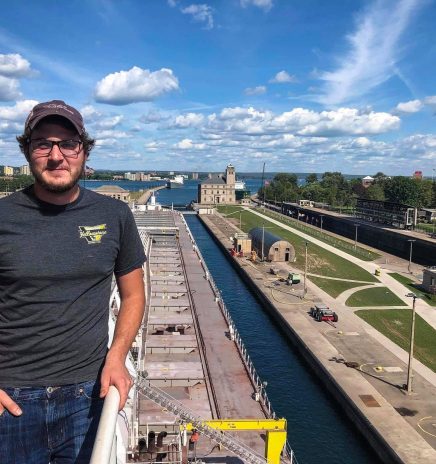 Jake Bourdage's career is inspired by dock visits  Standing 75 feet tall with a length of 1,250 feet and width of 60 feet, the steel-framed Lake Superior and Ishpeming Railroad... Read More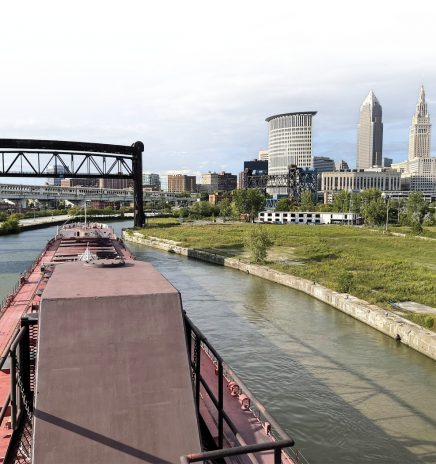 Ryan McDonough, 30, banked his future on a career as a Great Lakes mariner and finds it's an ideal choice. The merchant marine industry is where good pay, travel, time... Read More