Ryan McDonough: Sailing Up the Career Ladder With Grand River
Ryan McDonough, 30, banked his future on a career as a Great Lakes mariner and finds it's an ideal choice.
The merchant marine industry is where good pay, travel, time off and advancement came knocking for McDonough, who like many Millennials values a good life/work balance.
McDonough grew up in a Cleveland, Ohio suburb. He planned to enlist in the military after graduating from high school – until a friend's father steered him toward a career as an inland seas mariner.
"For me, it was as simple as the work schedule and the money," he says.
The Buckeye State native had his facts right. Three Great Lakes states rank in the top five paying states for captains, mates and water vessel pilots, according to a 2020 U. S. Bureau of Labor Statistics report.
Getting Trained
In 2009, McDonough went straight from high school to enrolling as a cadet in the Great Lakes Maritime Academy (GLMA) at Northwestern Michigan College in Traverse City.
"My father was super into it because it offered a path for decent advancement," he says. "My mother was over the moon because she could see me succeeding."
McDonough completed his GLMA studies in 2013, having earned a bachelor's degree in business administration, an associate degree in applied science, a third mate unlimited tonnage license ocean and inland, and first class pilotage for the western rivers and Great Lakes.
"What sets Great Lakes apart from other maritime schools is the pilotage – the unlimited piloting experience necessary for sailing on the Great Lakes," he says.
Sailing the Lakes
Following graduation, career promises began to unfold. He secured work with his top pick employer, Grand River Navigation. McDonough worked as a third mate for three seasons on the integrated tug Victory/James L Kuber. He next served on the MV Manitowoc and the tug Defiance/Ashtabula. He advanced to first mate in 2018 and served on the MV Calumet and in 2019/20 on the tug Olive L Moore/Menominee.
This season opened an opportunity for McDonough to work as first mate on the American Courage, a class 3 river boat where he focuses on forging leadership skills and training for the next step up the maritime ladder – captain.
The Cuyahoga River shuttle vessel American Courage is part of Grand River Navigation's U.S.-flagged fleet. The bulk carrier, built in 1979, was originally named Fred R. White, Jr. after the former vice president and director of its initial owner, Oglebay Norton Company. Driven by a 7,000-horsepower twin engine, the ships speed earned her the nickname "Fast Freddy."
"She's perfect for the Cuyahoga River," McDonough says. "She's very maneuverable and fast."
The vessel came under the ownership of American Steamship Company in 2006 and was renamed American Courage. In 2020, Rand Logistics, Inc. acquired American Steamship. Grand River Navigation Company is the U.S. operating subsidiary of Rand.
McDonough said the greatest challenge facing Courage leadership is managing Grand River's growth. Acquiring American Steamship doubled the company's fleet to 10 U.S.-flagged vessels.
"We're constantly training new crew," he says, emphasizing that the objective is to maintain a crew with both high skill levels and a shared company vision.
American Courage recently became the largest ship capable of performing automated docking and dock-to-dock sailing operation. She's proven capable of unloading 6,000 net tons per hour and loading 20,000 net tons in six hours.
The Cuyahoga River shuttle moves iron ore, slag, stone, coal, grain and other bulk cargo. But its primary contract is for moving taconite between the Cleveland Bulk Terminal at the Port of Cleveland and Cleveland Cliffs, Inc., making the 12-mile round trip every 12 hours.
Between the start of the season and the end of September, the vessel transported 2,225,000 net tons, primarily taconite, and completed an impressive 118 trips.
Looking Ahead
The Millennial captain-in-training jumps at every chance to gain experience by taking the Courage's helm to navigate the Cuyahoga, the indigenous name meaning crooked river. The schedule helps keep McDonough's career on a fast track.
"I see myself as a captain in the immediate future, and I'm putting in a ton of hours honing my skills," he says.
McDonough's duties, excluding captain training, require working 10 to 12 hours per day seven days a week. But the millennial finds time to connect via technology with his fiancee at home in Columbus, Ohio. He gets in a daily workout and tunes into sports.
"I try and never miss a Cleveland Browns game," he says.
Advancement. Check. Good pay. Check. Work/life balance – McDonough believes he has that covered, too.
"I tell my fiancee that when I'm home, I'm home," he adds. Work cares sail away, and he is free to focus on time with her, help plan their May wedding and play golf.
According to the Great Lakes Commission, a projected shortage in qualified maritime personnel offers career opportunities in both Canada and the United States. Nearly the entire U. S. shipboard maritime workforce is expected to turn over in coming decades creating desirable opportunities for Millennials and the younger Gen-Zs.
As for McDonough, after he chose the life of a Great Lakes mariner he never looked back – only forward.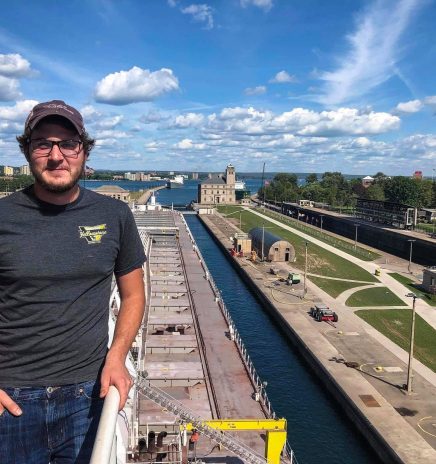 Jake Bourdage's career is inspired by dock visits  Standing 75 feet tall with a length of 1,250 feet and width of 60 feet, the steel-framed Lake Superior and Ishpeming Railroad... Read More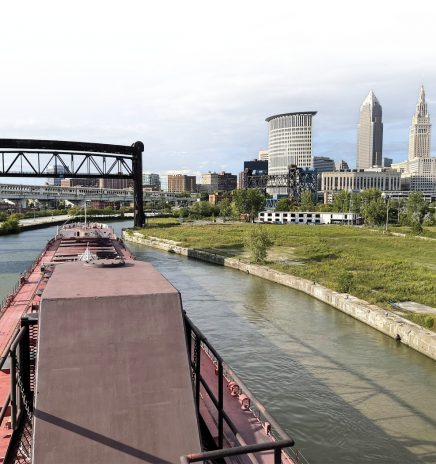 Ryan McDonough, 30, banked his future on a career as a Great Lakes mariner and finds it's an ideal choice. The merchant marine industry is where good pay, travel, time... Read More